Want to come up with great blog ideas every time?
Pushing new content out into the world may be daunting at times. It's unsettling to wonder how your peers will react to your ideas. Is what you've written satisfactory? Will it be well-received, or will it be met with hostility? Or, even worse, no response?
We have all been there staring and blinking at the computer screen, waiting for new ideas to pop up in our heads, knowing that we have to publish something but don't exactly know where to begin? So, to help you combat a writer's biggest nightmare, 'writer's block,' we will give you some tips and tricks for coming up with blog post ideas even when you don't feel like you have any left. These pointers apply to any blogger or publisher, whether they're working on a public blog, a weekly newsletter, or a membership site.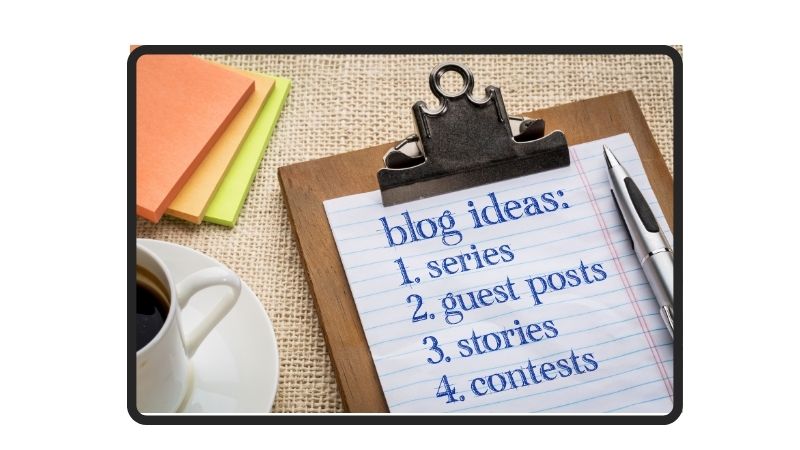 You're undoubtedly aware that content marketing is a practical approach to promoting your business online.
It's a method to show off your knowledge and grow your online following, all in the hopes of increasing your company's lead generation and sales.
Tricks To Come Up With Great Blog Ideas To Increase Traffic
How can you keep your creativity and ideas flowing to fill your content calendar with themes that drive consistent traffic, leads, and conversions?
The good news is that everyone gets stuck sometimes, but there's a better approach to generating content ideas than gazing at your screen and hoping for a miracle.
Read A Lot
Let us start with the easy one: reading a lot. Reading great books and blogs, on the other hand, does more than only assist you in managing the business; it's also the single most significant source of fresh post ideas. If you read something new daily, you'll never run out of topics to write about.
Use Google Trends
Although Google Alerts has been around for a long, I believe it is still an underutilized source for new ideas. You have to focus on SEO friendly content to generate traffic to your blogs
It's a simple and effective method to keep on top of what's going on in your sector without having to explore continually. The more you read about what's going on in your area, the more ideas for new blogs you'll have.
You can also use Google Trends to find ideas for relevant hot topics based on your keywords. For example, if you work for a digital marketing firm or a fashion house, Google Trends will show you additional comparable subjects and inquiries that are becoming more popular.
Ask Your Audience
Inquire your readers about what they'd want to read more of, and then provide it. It appears straightforward, yet only a tiny percentage of individuals do it, like how influencers these days ask their followers on Instagram and YouTube to suggest topics for videos or IGTV. Bloggers could do the same! After all, we write for customers to provide solutions or give detailed information, so they should suggest a topic.
Scan Social Media For Trendy Topics
Pinterest is a great place to get ideas, especially for bloggers! It might assist you in gathering enough information for your next topic. Look for terms like [blog post ideas], [blog ideas], or [what to write about] in your search. Include your topic in the search results to obtain even more inspiration quickly. [Blog post ideas for parents], for example, or [blog post ideas for lifestyle bloggers].
It's also a good idea to be careful. Pinterest, in my perspective, is clickbait nirvana. It's easy to fall into the trap of prioritizing quantity above quality. Maintain your concentration, or you will lose track of time.
Repurpose Existing Content For Different Formats
You can recycle current content by simply reframing it and leveraging a significant point from one article in another. Unfortunately, many people have different preferences when it comes to content consumption. Some prefer lists and slideshows, and some love to read long blog posts!
Google wants to ensure that searchers are getting the most updated content. Thus updates are particularly critical for topics that change over time.
Frequently Asked Questions Are Blog Posts
Yes, FAQs constitute fresh blog ideas. People generally search in the form of questions. So here, you have new and fresh blog ideas. The best aspect of posting a FAQ blog post is that if it delivers a lot of value to the reader, you have a decent possibility of getting it included in Google's featured snippet area because they are the most asked question.
Study Your Competitor And Fill In The Blanks
Trends come and go, but blogging about current trendy subjects in your business might help you get some decent traffic.
Millions of Google searches every month use the phrase "trends" in combination with industry keywords like "social media," "marketing," and so on. This demonstrates that covering industry trends in your blog articles is highly likely to attract attention.
The objective is to find chances where you can develop new content with a low enough keyword difficulty to get a piece of the pie.
Conclusion
I hope this article on how to come up with great blog ideas every time was helpful and insightful. Don't give up if you're struggling with blog topics. There's inspiration all around you- On your website, on the internet, and the real world. Sometimes all it takes is a new viewpoint or technique, and you'll be ready to write again in no time! The most important thing is to discover a strategy that works for you, from coming up with fresh ideas to organizing them for simple access to creating procedures that make bringing them to life a pleasure.