Data is at the core of every business. Even as a restaurant business owner creating a good digital marketing strategy for restaurants requires you to have proper data in your hands. And if there's anything the pandemic has taught us, it is the importance of having an online presence.
As a restaurant business, you might think that you just need to reach the local customers, who are most likely to become your loyal regulars. But you are clearly underestimating the power of the internet and people's love for exploring new cuisines and food places every day.
It's about time you look into the digital marketing strategy for restaurants and upgrade the way you market your food business.
How Does Digital Marketing Strategy For Restaurants Help Your Business?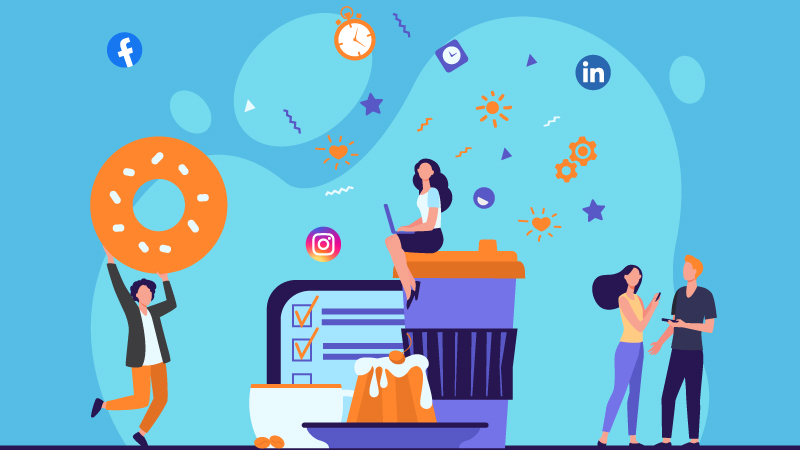 Internet is the easiest way to connect to your customer and ensure all their expectations are being met. One of the best ways to improve your business is to go online and see what people are saying.
Other than that, there are also other great uses for having a good digital marketing strategy for restaurants.
Create A Unique Identity For Your Restaurant
People who have not seen your establishment in real life will always look for it online. Your food, ambiance, and customer service all will be judged based on the identity you have built for your brand on the internet. So working with a restaurant digital marketing service will help you create that identity and cater to your customer's liking.
Build Customer Loyalty
Every business needs its customers to be loyal to them. Loyalty among customers reflects when they return to the business because of how much they like it, and they tend to refer the food or services to their friends and family. To build this loyalty, not only do you need to provide excellent food and service, but you also need to create a connection with your customer. Communicating with them online could help you build this connection.
Create And Share Fresh Content
A huge advantage of building a digital marketing strategy for restaurants is you have the easiest method right in front of you. Show the people what your restaurant offers. Let them feast with their eyes first. But just posting pictures of food will not work as well as you think. You will need the help of a restaurant digital marketing service to sell the food to people's eyes online. This could be through social media, blogs, or even YouTube videos.
Host Giveaways And Contests Or Announce Offers
Just running the restaurant might seem like a huge mountain to many, and stepping into restaurant online marketing won't look like an easy task. But when you work closely with a marketing agency that understands your vision, that pressure will be lifted of off your shoulders. So things like hosting giveaways and contests or even something like constantly keeping your customers updated on the ongoing offers will not be something you personally will need to burden yourself with.
Best Digital Marketing Strategy For Restaurants
Some restaurant online advertising can be done on your own if you have the right knowledge, resources, and time. But it is always better to use professional help and advice and focus your resources on maintaining the food quality.
Nevertheless, here are some methods of Internet marketing for restaurants that you can look into:
Use Social Media Platforms
The first digital marketing strategy for restaurants to try has to be utilizing social media platforms. Building a community on Facebook, Instagram, LinkedIn, and other social platforms connects you better to the customer. You can showcase your brand's personality and make it easier for people to trust you. But remember, just posting will not be enough; one must also engage with people and brands to maintain that human touch.
Pay Attention To SEO
Most people, whenever they have a query or need to find something, turn to Google for answers. This is how people discover businesses and brands that are willing to solve their problems for the longer term. You might have seen it already, but your competitors are already using SEO to rank on Google. So now it's your turn to implement search engine optimization and rank for the terms your local customer base is searching for.
Email Digital Marketing Strategy For Restaurants
Many marketing novices believe that email is the ancient way. They even go as far as to say that email marketing is dead. But if you truly want to retain customers and maintain a good relationship with them, you need to create an email list. From offers and updates to menu changes and food festivals, you have a variety of subjects to capture.
Conclusion
So if you're struggling to create your digital marketing strategy for restaurants, you should know that joining hands with a digital marketing service like ours could help you a lot!