Are you looking out for the best Udemy Digital Marketing course? In today's world of the internet and technology, Digital Marketing has become vital and one of the thriving industries! Since this industry is evolving at a splendid momentum stay updated with the latest trends in the market. The ever-changing marketing trends make it necessary for marketing professionals to stay up to date. Hence here is a list of the Udemy Digital Marketing Course you should opt for if you want online marketing to be your forte!
Top 5 Udemy Digital Marketing Course
Complete Digital Marketing Course – 12 courses in 1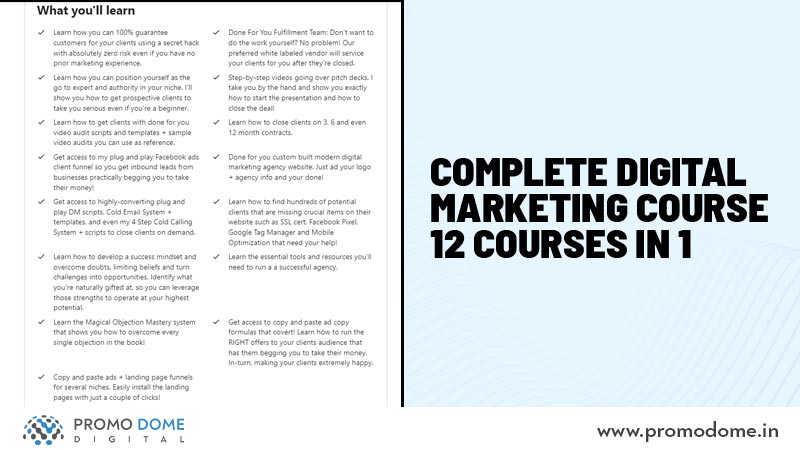 This Udemy Digital Marketing course is a bestseller with over 500,000 students enrolled. It is the top choice in the space of online marketing courses with 4.5 high ratings. These twelve courses in one are designed by Daragh Walsh and Rob Percival. They have collectively taught more than 3 million students. This is one of the vast courses on digital marketing that covers SEO, Facebook Marketing, Google Adwords, YouTube Marketing, Google Analytics.
This module covers the following different aspects of Digital Marketing, with real-life practical instances. These real-life examples will help you in linking all these aspects to and efficiently building a marketing strategy.
Market Research
WordPress
Email Marketing
Copywriting
SEO (Search Engine Optimisation)
YouTube Marketing
Social Media Marketing
App Marketing
Google Adwords
Facebook Ads
Google Analytics
LinkedIn Marketing
Digital Marketing Masterclass – 23 courses in 1

This Udemy course is one of the most popular online digital marketing courses, with around 200,000 students have completed it. It is an in-depth course that conveys a thorough understanding of all facets of digital marketing, from social media marketing to email marketing to content marketing and much more, with over 32 hours of video lectures, tonnes of articles and extra materials. It takes a project-based approach and incorporates real-world case studies to teach concepts and strategies that may be applied to real-world situations.
Ultimate Google Ads Training: Profit with Pay Per Click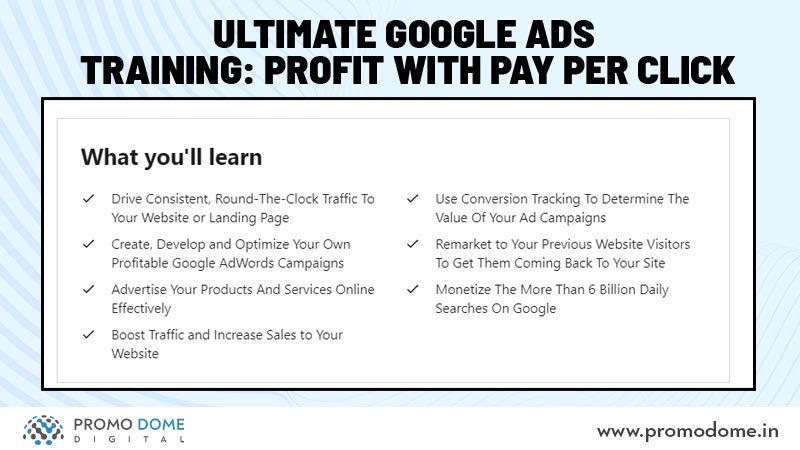 This Digital marketing course in Udemy is formulated by Isaac Rudansky. With 192000 student enrolments, it is rated as the best Google Adwords training course.
The course aims to impart the essential knowledge and skillset to advertise any product or service online profitably. If you are looking out for a digital marketing course on Udemy then this course is meant for you. It aims to teach you how to drive reliable and consistent traffic to your website or landing page every day with Google Adwords. And if you are a beginner then this course is a step-to-step demonstration that is very easy for you to understand.
Once you complete the course, you will be able to create, develop and optimise a professional Google AdWords campaign. The campaign that you create will successfully bring in high-quality traffic!
Also, this course will gradually move from beginner to advanced.
This course possesses over 25 hours of video content.
You will also have access to the student discussion forum, where you can also ask the instructor your queries as you progress through the course.
Learn How To Start & Grow Your Own Digital Marketing Agency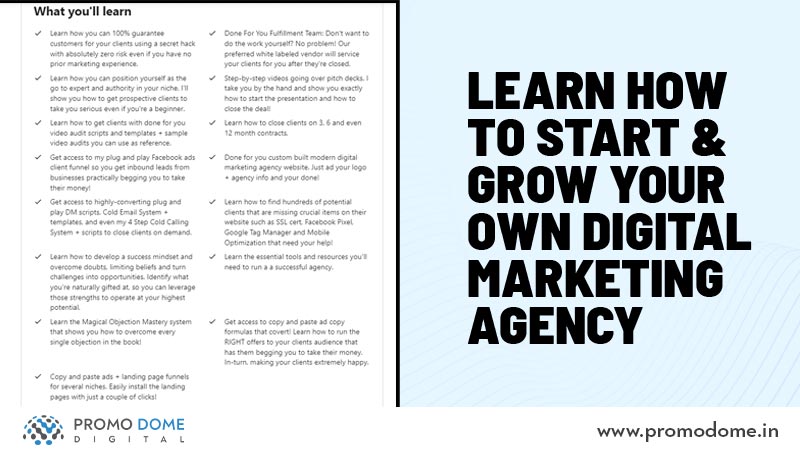 This digital marketing training will show you how to use a hidden technique to guarantee customers for your clients with no risk. This programme includes everything you need, whether you're brand new to space or just want to brush up on your skills. Juan Galvan is the instructor for this course.
So, if you're ready to make a change and learn how to start and expand your own digital marketing firm while also landing clients in as little as 30 days, now is the time to act and transform your life!
, | Learn Ads on 10+ Platforms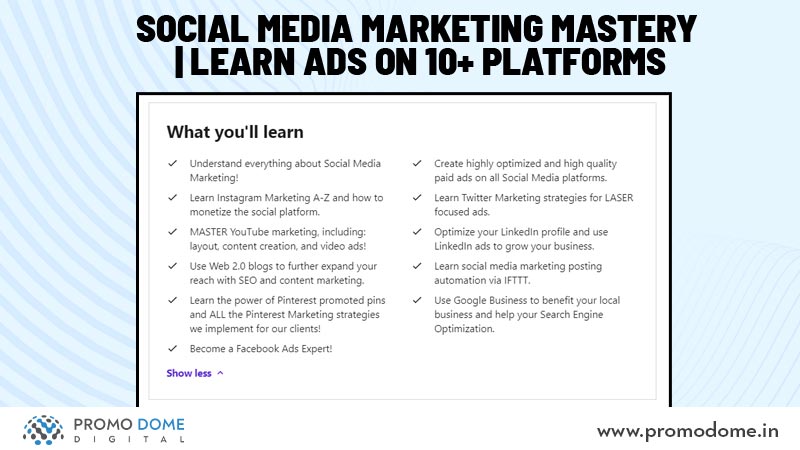 This Udemy Social Media Marketing training course gives you a complete overview of all social media platforms. It includes Facebook, Twitter, Instagram, YouTube, Google, Pinterest, LinkedIn, Tumblr, WordPress, Blogger. It teaches how to create highly targeted and cheapest advertising strategies online. This course is a bestseller on Udemy with more than 73000 student enrolments and high ratings
Conclusion
This platform has many courses but here we are listing the best five that are suitable for a beginner. Hence, choose the best Udemy Digital Marketing Course for yourself.
Frequently Asked Questions
Q1. Which is the best course of digital marketing in Udemy?
Ans. These are some of the best courses on digital marketing in Udemy:
Complete Digital Marketing Course.
Digital Marketing Masterclass.
Learn How To Start & Grow Your Own Digital Marketing Agency.
Q2. Can I learn digital marketing from Udemy?
Ans. Anyone can take up digital marketing courses from Udemy.
Q3. Is Udemy certification valid?
Ans. No Udemy certificate is not considered valid as this institution is not accredited. Hence employers do not consider this certification while recruiting.
Q4. Which digital marketing course is best for beginners?
Ans. These are some of the best digital marketing courses for beginners:
Google Online Marketing Challenge.
PPC University By WordStream.
Inbound Digital Marketing Course By HubSpot Academy.