Chrome and Firefox are the two most used web browsers around the world. They are both widely popular, so the competition is fierce while choosing. Nevertheless, they're both excellent options for online surfing, with good add-on libraries, straightforward user interfaces, and fast speed.
One thing that everyone relies on is the browser experience. And let us be honest here, we all have gone back and forth with Mozilla Firefox. However, Google launched Chrome in 2008, and ever since then, it has been a dominant browser that everyone prefers.
We decided to set them against each other in this Firefox vs Google Chrome battle to help you make a better-educated decision when choosing which one to use. In addition, we will provide you with a detailed breakdown of each browser's features and characteristics and how they fare.
Everything boils down to one question: Is Firefox better than Chrome, or vice versa? So let's go right into the criteria that distinguish a well-defined web browser.
This article explains which browser, Chrome or Firefox, is superior and how it works. So, let the battle of Chrome vs Firefox begin!
Chrome vs Firefox: The Differences
We will be comparing the two browsers on four points.
Google Chrome vs Firefox: Features
The first point in the battle between Chrome vs Firefox is their features. Features are the first thing that attracts us, whether in an App or a product. For example, mobile phones, we look for impressive features like a good camera, higher productivity etc. Similarly, this stands true for web browsers as well.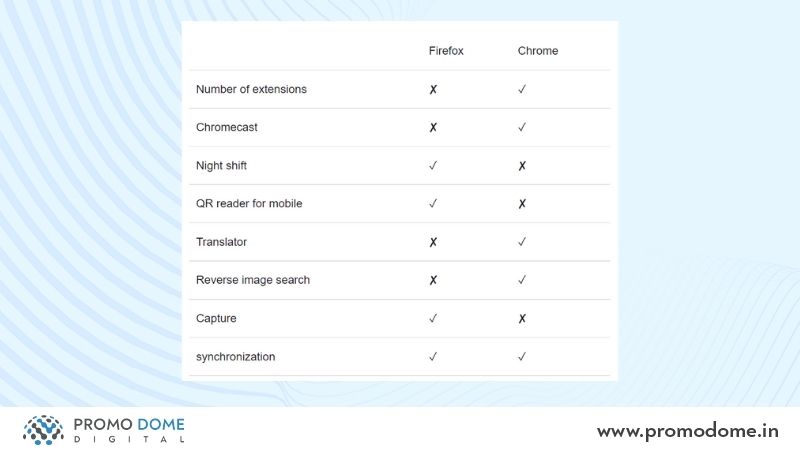 A web browser is complete with extensions, customization choices, sync functions, and other minor features. Both the browsers have promising features that are distinct from one another. For example, Firefox is quite handy for capturing screenshots because it allows you to capture the entire screen, a selected section, or the entire webpage, regardless of length. The Firefox browser also has a night mode and a QR reader, making many people's lives much more accessible.
On the other hand, Google Chrome is well integrated with other Google Services like Gmail Google Docs, making the surfing experience much better. In addition, Google Translate is currently the most incredible automated translation tool available, allowing you to translate web pages into practically any language quickly.
Chrome does not allow you to change the look of the browser. On a Chrome computer, though, you may alter the theme color and switch to dark mode.
It isn't easy to evaluate browsers based on features built into the browser. Every component that has been placed serves a function and has meaning. At the same time, it is a matter of personal choice. That is why, depending on features between Chrome vs Firefox, it is upon the user's preference.
Chrome's inability to provide customization tools is a flaw in the browser. More user-related features are available in Firefox, taking their experience to the next level. One quality of Chrome is casting content to other devices, which considerably influences the user experience.
Performance
We'll now compare the two browsers' performance. This entails examining their performance and resource consumption. Data usage is also crucial if the browsers have built-in data-limitation features.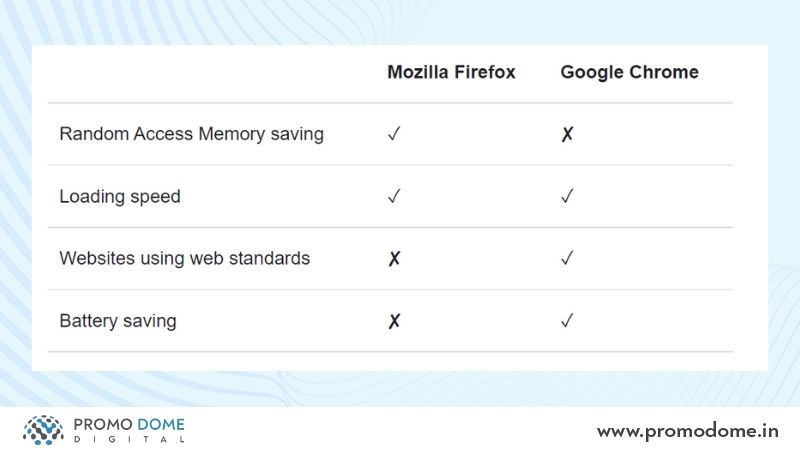 One thing that everybody looks for in a browser is its speed. Firefox is one of the fastest web browsers on desktop and mobile phones. Although the browser consumes a lot of RAM, it performs effectively when there are a lot of tabs open (more than 20 to 30), utilizing relatively few resources for each tab.
In the case of Google Chrome, one issue that everyone is concerned about is RAM usage. Even when not in use, the background extension consumes a significant amount of RAM. I can state that Google Chrome isn't fantastic for RAM management.
Does that mean Is Firefox better than Chrome performance-wise? So, we would suggest that Firefox has done a better job in this case. With superior RAM management functionality, it is versatile in terms of speed and performance.
Privacy And Security
It is vital to use the internet safely and securely. Unfortunately, the internet is unsafe, and users must take all necessary precautions to protect their personal information.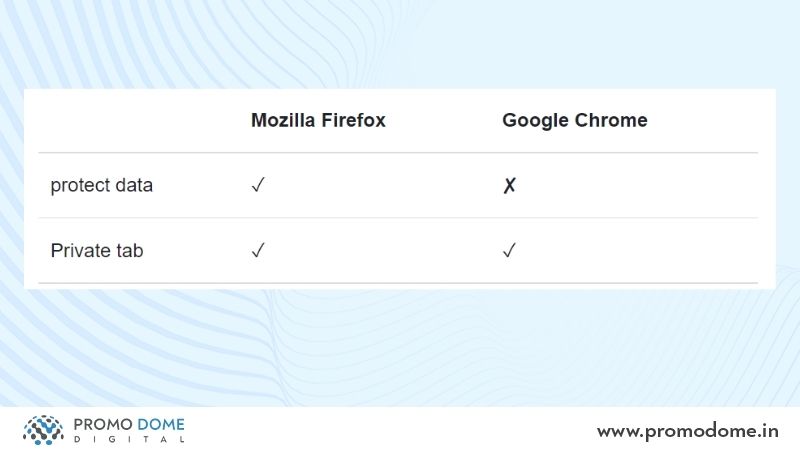 After the issues about speed and performance have been addressed in the battle of Chrome vs Firefox, it's necessary to assess their capacity to secure privacy and security duties.
Firefox has a plethora of add-ons that improve its security. As a result, Firefox can deal with security issues, but privacy concerns raise numerous questions. As a result, Firefox implemented a "Master Password" feature to make it safer. This serves as a safeguard for all of your browser-connected accounts.
Firefox has a pop-up blocker built-in but no ad-blocker. However, the enormous library of Firefox add-ons has many solutions, including some of our favorite pop-up blockers.
Many of the same points made about Firefox also apply to Google Chrome. For example, there's a built-in pop-up blocker, and the Chrome web store has dozens of third-party ad-blockers. Unsurprisingly, the browser also uses Google Safe Browsing to filter harmful websites.
Regarding security, if you ask us which is better, Chrome or Firefox? We would put Chrome slightly ahead of Mozilla Firefox because of its safety and web browsing protection.
Ease Of Use
The browser becomes complete only when there is adequate communication between the user and the website. Therefore, the design layout and option integrations are prioritized when working on a web browser's user interface.
Firefox has a relatively simple user interface that is easy to understand and navigate. The layout is straightforward, and all of the features are in the places you'd expect them to be. For example, tabs are simple to operate since the browser employs horizontal scrolling rather than dismissing them when you have too many open at once. Tabs may also be pinned, muted, and transferred to another device.
Many aspects of Google Chrome are identical, and tab management is likewise quite effective. The reverse image search feature in Google Chrome is handy. It gives the user the ability to right-click on a picture. When other devices are considered, it has a well-developed framework. The most significant disadvantage of Chrome is that it does not support horizontal scrolling, whereas Firefox does.
Google Chrome defeats Firefox in the Firefox vs Chrome competition based on the user interface. User input and experience led to this decision.
Final Thoughts
According to the four points we have mentioned, the battle between the two browsers, Chrome vs Firefox, is neck to neck. So if you value your privacy and don't want your data to be collected, Firefox is the way to go. Firefox is the browser to use if you're going to tailor your experience and have a browser that respects your privacy.
On the other hand, Chrome simplifies and improves the productivity of many users. So at the end of the day, it is a personal choice to make. So, which is your favorite browser amongst the two? And why do you prefer it?