Trending hashtags prove to be a boon to social media platforms. Your post will soar higher in the trending section if you use relevant and trending tags. This will also help maximise your reach and find the right set of audience. But finding the right set of popular hashtags is challenging! So let's find out how to get through a wind whirl of trending hashtags!
We have many social media platforms, but Twitter, Instagram and Facebook are some platforms that entitle its users to search with hashtags. However, before using a horde of hashtags on your post, let's understand how to use the right set of top trending hashtags in aid of your campaign to maximise the reach of your post.
How To Determine The Top Trending Hashtags?
Use tools to find popular hashtags
Research and try to find the right keywords on social media platforms. If you cannot find hashtags according to your brand, you can switch to the third-party hashtag generator tools.  
Create unique and precise hashtags
Whenever you are creating a campaign, try to build your hashtag. You need to select a hashtag that will be relatable to your target audience. Try to use a catchy one! Besides having a unique hashtag it's important to use precise hashtags that explain the context of your brand.
Check the hashtags that influencers use
When it comes to social media marketing, influencers play a significant role. Find suitable influencers that might be helpful in getting the best results. Through them, you can find relevant hashtags for your brand. 
Use Relevant hashtags
Finding the popular hashtags won't help you if they are relevant to your business or niche. Therefore, it is essential to research and ensure that the hashtags you are using are relevant to your brand and business.
Keep the hashtags short and simple
The easy and simple your hashtag is, the easier it is for the audience to read. Keep your hashtag up to 10 characters. Use short, simple and straightforward hashtags. Long hashtags are difficult to read and understand, so there is a possibility that your audience will skip your post.
Tips To Find Instagram Hashtags For Reels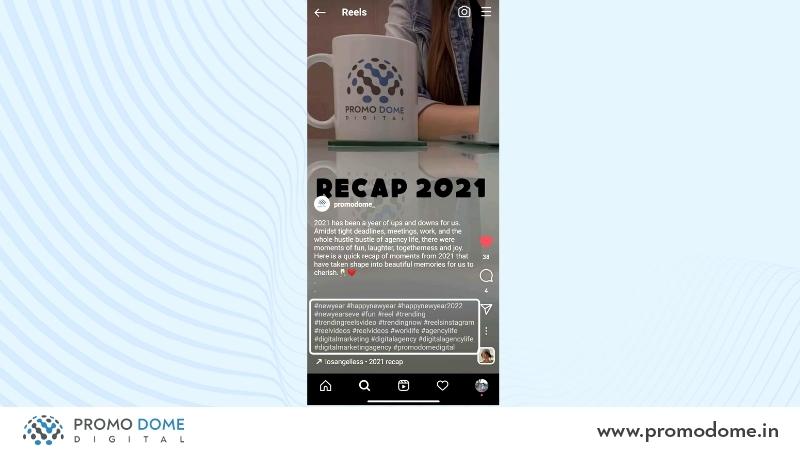 Instagram launched reels in the year 2020, and since then, this has been one of the best ways to seize your audience's attention! These are short 60 second videos with trendy and appealing songs that can get stuck in one's mind! So why not use Instagram reels to your business advantage then?
Browse accounts similar to yours
Search for Instagram accounts that are similar to yours so that you can use similar Instagram hashtags for reels if your campaign is alike.  
Use Industry-specific hashtags
Hashtags are mainly used for users benefit so that Instagram can display the relevant results to their users. Hence, choose the hashtags on your reels carefully.
Most used hashtags for your niche
Find hashtags that are used by the Instagram community for your niche. 
Use the hashtag generator
If you do not find relevant hashtags from Instagram either from similar accounts or influencers then it is time to take assistance from the hashtag generators. These are some of the tools that you can use to find Instagram hashtags for reels 
Photerloo
All hashtags
Display purpose 
Build your hashtags accordingly
Branded hashtags: These hashtags should be unique to your account or business. Build a hashtag that's simple enough for your audience to recognize, and memorise. It could be your name, brand name, tagline, or the basic purpose of your Instagram account.
Industry hashtags: Out of all the hashtags that are used, industry hashtags are quite competitive. Millions of people use them every day, hence it is exceedingly important to choose hashtags that are relevant to your brand.
Community hashtags: These hashtags are those that connect a small group of like-minded users. The use of community hashtags makes you discoverable by topic, niche, location, etc. This also helps in gaining followers organically and growing your own community.
Content hashtags: While you are searching for hashtags try to think from the customer point of view. This will help you in finding out what they would search for. The content hashtags support your engagement with your target audience. For instance, #howto is frequently used on Instagram and can be a good base for your hashtag strategy.
Campaign hashtags: If you are planning an event or campaign or a giveaway then using create a campaign hashtag and ask people to engage with it.
Ideas to Find Twitter Trending hashtags
Twitter Search
Twitter has an in-built feature that lets you know what's trending in the location around you. It also gives you the option to change your area to learn what's trending in the other places. This feature has proven to assist when targeting a large audience intensely. 
Use tools to find hashtags for Twitter
Hashtag Tracker: This tool exhibits the number of people mentioning a popular hashtag at a particular time or language. Quickly run a hashtag search to find your answers. Once you find relevant hashtags, check the metrics and mention them within the posts.
Brand24: This hashtag generator tool assists in tracking and analysing your set of hashtags across diverse platforms, websites, blogs and social media platforms.
Conclusion
Finding popular hashtags is a challenging task, but we are sure these top-notch ideas will help you find the top trending hashtags. In addition, these tags will help you to grow your reach creatively!
Frequently Asked Questions
Q1. How do I find the best hashtags for my niche?
Ans. While searching for hashtags, check the top 10 posts and list the popular hashtags. If you do not find hashtags in the captions, you can turn to the comment section. You can also use the hashtag tools that help find the right hashtag according to your brand, industry and niche.
Q2. How to find the perfect hashtags on Instagram? 
Ans. Observe the hashtags used by the Influencers on Instagram as they use trending hashtags that gain engagement on their posts.
Understand the industry and choose the hashtags accordingly.
Select relevant, clear and simple hashtags.
Q3. Is it better to put hashtags in comments or captions?
Ans. Placing the hashtags in the comments or captions doesn't differentiate its functionality. So it is your sole decision if you want to place captions in your comment section or the captions. If you wish to hashtag free captions, you can put them in the comments.
Q4. Are hashtags effective on Twitter?
Ans. Twitter's research report says that tweets with hashtags receive more engagement on their posts.