Why local SEO is important? Local SEO is invaluable for small businesses wanting to get noticed online. But wouldn't it be amazing if local consumers could locate you when they needed your product? Let us examine the power of local search engine marketing for your business, starting with the meaning of local SEO services.
What Is Local SEO Services?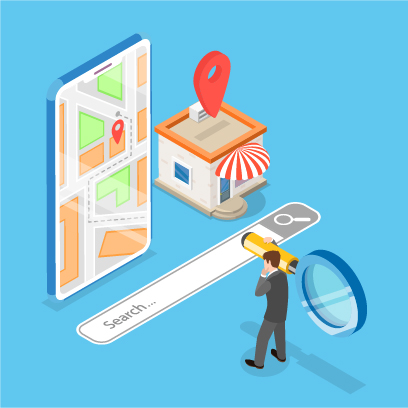 Search engine optimization (SEO) for local businesses focuses on increasing brand recognition and trust among locals. In addition, local search optimization ensures that customers find your business nearby in and around your location. The difference between organic SEO and local SEO is that it helps consumers find your brick and motor address instead of a website.
To serve local companies, Google came up with the proximity factor and updated the Google algorithm, also called the 'near me search option. So, for example, even if a consumer enters a keyword, the search results will default display the nearby local businesses at the top.
If I were the owner of a beauty parlor and I spent money on a local SEO strategist, whenever someone searched for "beauty salons," the top result would be a list of salons close to them. Further, let us understand how SEO for local businesses works.
Where Do Results From Optimizing For Local Search Appear?
The first place a consumer will see them is in the organic search results on the SERP following a local company or service search, which are  Search engines like Google, Bing, Yahoo, etc.,  Google Maps, Google Business Listings, major local directories, review sites like TripAdvisor, etc., are just a handful of the other locations you can find your business listed and found for customers looking for the product or service.
Why Local SEO Is Important For Your Business?
Below are a few pointers that will help you understand why hiring Local SEO services benefits your business or ranks your business on the SERP.
Increase Customer Base
Consumers use the search engine for any inquiries. When in doubt, just type it into Google. So, local SEO leverages this fact and targets an audience explicitly searching for products and services in your area. A local SEO strategist uses relevant keywords so that your business is in front and center when prospective clients do a local search using those keywords.
Increases Traffic On The Website
With the help of local SEO services, your company's location and contact details will appear on search engine results pages. Accessible contact information includes a website, phone number, and social media accounts. As a result, your brand gets the initial recognition it requires to convert the leads into sales in the future.
Leverage Social Media In Local SEO
One of the most powerful tools available to us today is social media. Your brand's social media presence will put your products and services in front of potential customers. Regularly update all accounts and promote specials and deals on all platforms.
Social networking is a fantastic place to advertise your products and accept orders. However, to avoid missing out on potential leads, you should respond quickly to comments and messages on social media platforms like Facebook and Instagram.
Images Convert Searches Into Sales
For converting potential leads to sales it is essential to upload high quality pictures of the product as it is a deciding factor a lead can make to make the purchase. Additionally, most SERPs like Google Maps, Bing, and Yahoo allows businesses to add photos of their products and shops to make it convenient for customers to find your shop. So, it is absolutely necessary that as a brand you consider this factor and pay attention to images.
Results
The success of any digital marketing effort may be significantly enhanced by collecting and analyzing relevant data to support promotional efforts. With Seo companies, you may get insights tailored to your company.
Local SEO reports may show specifics about your area and associated keyword searches. Website SEO audits also reveal which keywords are most helpful.
Stay Ahead Of Competition
Get an edge over rivals by maximizing the visibility in local SERPs and capitalizing on localized content and ratings from your existing clientele. Compared to more conventional forms of promotion, local SEO's lower cost, and more significant ROI make it an attractive option.
Using local SEO, you may outrank the competitors in search results, primarily if they aren't investing in similar strategies. The unpaid reach of SEO also seems more genuine. More customers will click on your link if your business comes up higher in search results than its rivals.
Conclusion
So, if you still ask why local SEO is essential for your business, it creates brand awareness and guarantees long-term results. Local SEO services will increase the efficiency of the brand, strong reputation, customer engagement, and enhanced user experience. After learning about local SEO's advantages, don't hesitate to contact our seasoned SEO team for assistance in creating and implementing a plan tailored specifically to your company's needs.