Pogo-sticking is a term thrown around frequently in SEO circles, but for sane people with a life, it's just a toy that helps you jump off the ground in a standing position.
People that have a website or are in the digital marketing arena must have come across this term, but what does pogo-sticking mean in SEO if you knew you wouldn't be here.
Let's get straight to the meaning of Pogo-sticking in SEO:
What is Pogo-sticking?
When a search engine user examines multiple search results to discover one that matches their search query, this is known as pogo-sticking.
For example, you search the term "Rankbrain" on the Google search engine and click on the first result of the SERP. However, you don't find the answer satisfactory, so you go back to the SERP and go to multiple websites before finding the one that solves your query.
This behavior of jumping from one website to another is called Pogo-sticking.
Why is Pogo-sticking crucial?
Pogo-sticking indicates to Google that a particular page or website cannot solve the user query, which is why the user is trying other options further down the list of results.
Pogo-sticking is an essential ranking factor in Google's search algorithm.
Google's first and foremost goal is to provide the most relevant information to satisfy users' queries. Therefore, if a user leaves your page and goes to another page for the same search query, it's evident to Google that the first result is not the best option.
Google shows the "people also search for" section to help you find the information you are looking for when you leave a website too soon. If the reason for your decision to leave is the wrong search keyword, you can find the right related search term. It also indicates that the content is not irrelevant; the reason for pogo-sticking is the user's confusion, in which case the algorithm does not negatively judge your content.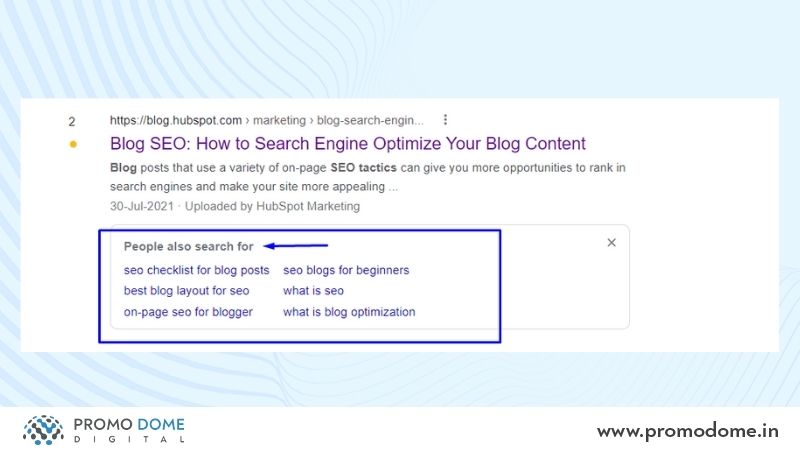 If you have too many pogo-sticking events, Google and other search engines will swiftly demote your site to a lower ranking.
What is the difference between Pogo-sticking and Bounce rate?
Bounce rate is also a ranking signal for Google. It shows how many people landed on your page and left without visiting the second page.
A high bounce rate can tell Google that visitors have a negative time on your site, but it doesn't always mean there's a problem. If you have a blog, for example, and your blog article answers every question that a site visitor had, the viewer will leave or "bounce" because they didn't need to spend any more time on your site.
Google is clever, and it will take into account factors like how long they spent on that page.
But Pogo-sticking is a bad signal for your SEO efforts.
The user is not just bouncing off your site; it's seeking another site and sending a direct signal to Google that your content is not satisfying. Therefore, a high pogo-sticking rate is more problematic than a high bounce rate.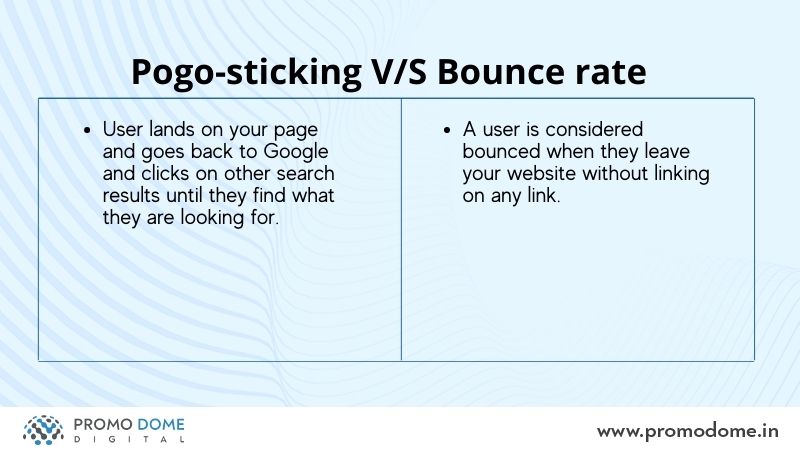 Reasons Viewers Pogo-stick
If you want to avoid pogo-sticking, you need to understand what is making your viewers pogo-stick in the first place.
The first five seconds are the most crucial as it determines whether your content is worth the viewer's time.
Many content-related and non-content-related factors prompt users to go back to the SERP and click on another search result.
The most significant factor is misleading and irrelevant content.
Imagine clicking on the title "10 best nail art ideas" and being shown nail polish suitable for nail art. The title is misleading users, and they realize it as soon as they come on your landing page.
Slow page speed bad UI are other common reasons that trigger pogo-sticking behavior.
To protect your ranking and improve your bounce rate, you need to avoid these pitfalls.
3 Tried and Tested Ways to Avoid Pogo-sticking
Content=User Intent Match
The most important way to avoid Pogo-sticking on your website is to create content that solves users' queries.
After choosing a keyword, the best way to do that is to ask yourself, "what does the user want to know?". Answer that question in your content.
You can check what content the top-ranking pages for your keyword cover and plan your content based on that.
If your content matches the user intent, fewer people will pogo-stick from your website.
Add Internal Links (Especially Above The Fold)
Internal links are a simple technique to retain visitors to your website.
(Especially if your internal links are placed near the top of your page.)
Why?
Internal links direct visitors deeper into your website. As a result, they are less likely to return to the search results.
You want to teach folks EVERYTHING there is to know about a particular subject.
There'll be no need to return to the search results to get more information on the topic.
Conclusion
Pogo-sticking in SEO is a severe issue as it negatively affects your ranking. However, you can avoid pogo-sticking by creating relevant content that matches the user's intent.
It's all about retaining the user and facing the consequences when failing to do so.