The Money Heist Season 5 volume 1 is out, and I can't wait to witness the chaos unravel.
The hype around this show has been nothing short of mind-boggling, and unless you live under a rock, you know what I am talking about.
The show is about a genius Professor who brings together a gang of brilliant criminals to carry out the biggest heist. The Spanish show blew up once the streaming giant Netflix picked it up.
We all know the show is intriguing, gripping, and unbelievably brilliant, but what we often miss to appreciate is the immaculate marketing responsible for the show's mammoth success. We as marketers can learn many lessons from the successful marketing campaign of Netflix's Money Heist Season 5 and the professor himself.
Baffled?
Just keep reading.
Marketing Lessons We Learned from Money Heist:
Lesson 1: Know your market to know success
Every time the professor got stuck, or we thought that there's no way out for him, he came out victorious. It turned out he always had a counter move ready. How?
He knew the system inside out; he understood how the police thought and that helped him outthink them every step of the way.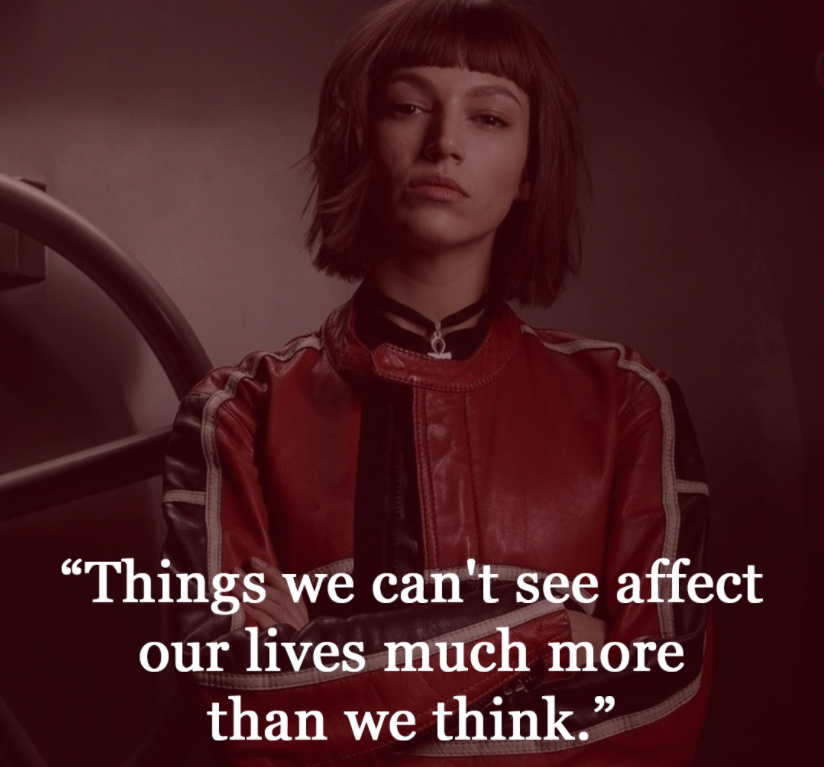 Netflix, too learned this invaluable lesson from the Professor and hit it out of the park with its marketing campaign for Money Heist Season 5.
Netflix understood the viewer's insane need to watch more and more money heist as the season 5 premiere date came close. They anticipated this mad love and created delectable morsels of content for the Money Heist fam.
Videos ranging from Professor and Berlin discussing the show's end to Netflix's version of the Tokyo Olympics kept the audiences hooked and the buzz alive.
And isn't that what marketers want? To keep the conversation centered on their brand.
Lesson 2: Meticulous Planning will save the day
Research and planning are at the heart of any digital marketing strategy. Before planning your marketing plan, conducting thorough research helps you mitigate the risks and prepare for unforeseen issues beforehand.
Nobody embodies this lesson better than The Professor himself. The entire heist was built around his thorough research and planning. We were awestruck to see how well he had planned out every move and had a contingency plan like 'plan Chernobyl" for every possibility.
Just as the heist wouldn't have been possible without the Professor, any digital marketing plan would not work without proper planning. You can try a thousand great things, but if they aren't integrated and strategized, they would inevitably fail to achieve your marketing goals.
Speaking of strategy, The promotion of Money Heist's Season 5 wasn't less than a movie marketing campaign. The systematic announcements of the release dates, teaser release followed by the trailer release, and the episode title reveal by Netflix ensued a colossal hype around the show.
#moneyheist and #bellaciao trending on Twitter ever since.
Lesson 3: Improvise or Loose
We have all hated Tokyo at one point or another for thwarting the plan by her impulsiveness. Each time the gang members had to improvise to keep the plan intact. Improvisation is a vital skill that every digital marketer must learn.
Moment Marketing has become indigenous to digital marketing. One can't survive without the other. So if you want to stay relevant, moment marketing is the way to go. It's a lifeline that marketers get every once in a while, as it allows them to piggyback off the ongoing trend.
A Jaipur firm has given the 3rd September off to its employees to Netflix and chill. This news has been trending on social media ever since. Netflix smartly used it for the Money Heist season 5 promotion. And once again won our hearts and eyeballs with its quirky thinking.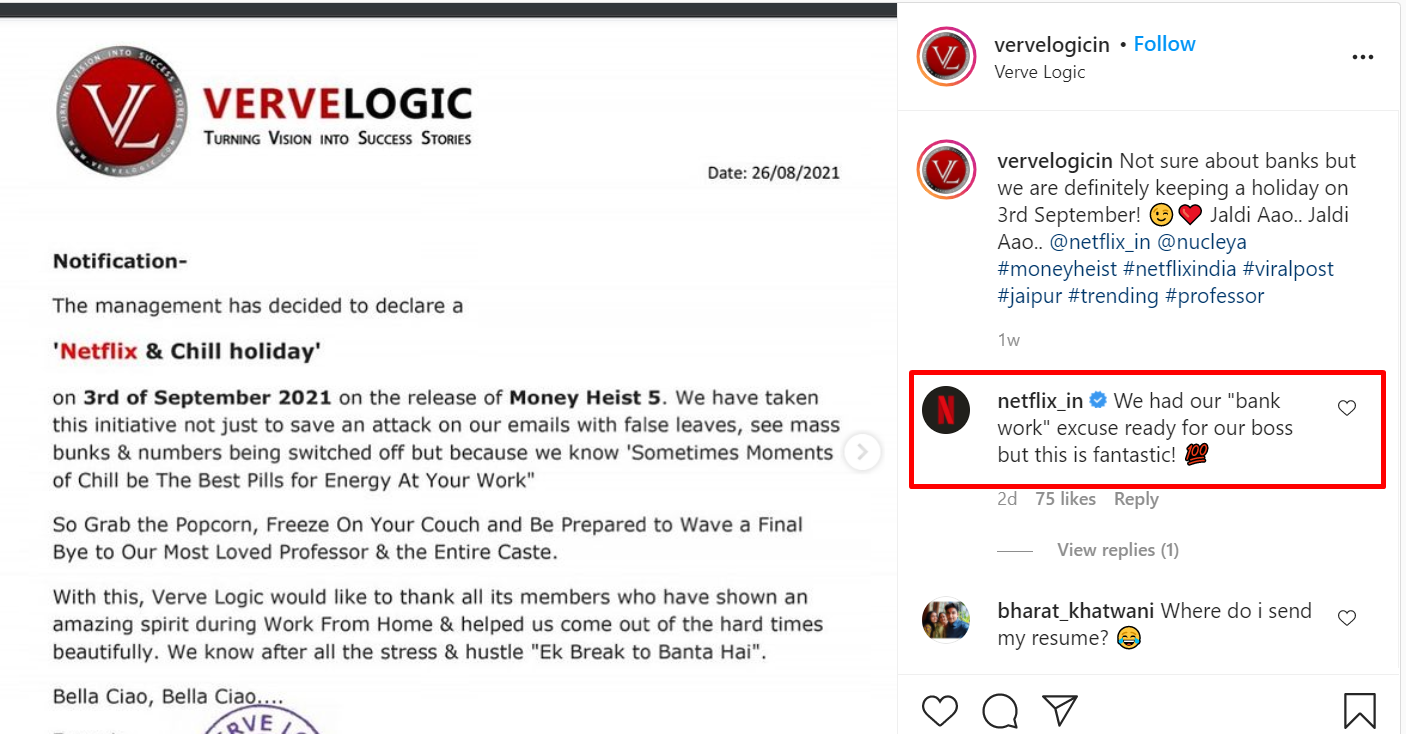 Lesson 4: Branding is the hero
Even though the professor and his gang were the criminals and the Police were the good guys, the public was with them. How?
The answer is the lesson. No, the professor's charm and intoxicating voice isn't the answer, although it does seem possible. But the real answer is branding. The Money heist gang strategically positioned themselves as the symbol of resistance, and the deli mask-clad group got the people on their side.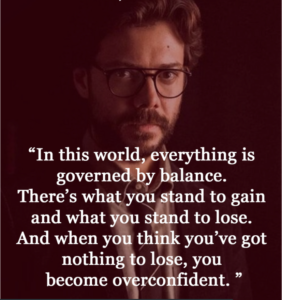 A well-defined branding strategy that fits with your company goals is integral to the success of your digital marketing plan. People don't buy products, they buy an ideology, values they want to align themselves with. Therefore, building a brand is the only sustainable marketing strategy.
It helps increase your brand's recall value. When I talk about good Spanish shows, people automatically recall Money Heist. If I want to watch something and chill, I think of Netflix. why?
Netflix has created that brand over the years with brand messages like"Netflix and Chill."
Lesson 5: Play to your strengths and you will win
The professor always stuck to his strengths. No, I'm not talking about his charming looks; I'm referring to his other strength. With his ability to manage everything from behind the scenes, he didn't have the skills to carry out the heist, so he outsourced it while he stuck to what he did best.
That goes for every business, but as marketers, we need to consolidate this lesson in everything we do. As marketers, we need to understand our brand's strong points and emphasize them through our digital marketing efforts. Gauging the power of our content and the platform optimal for its success is a daily battle we must win.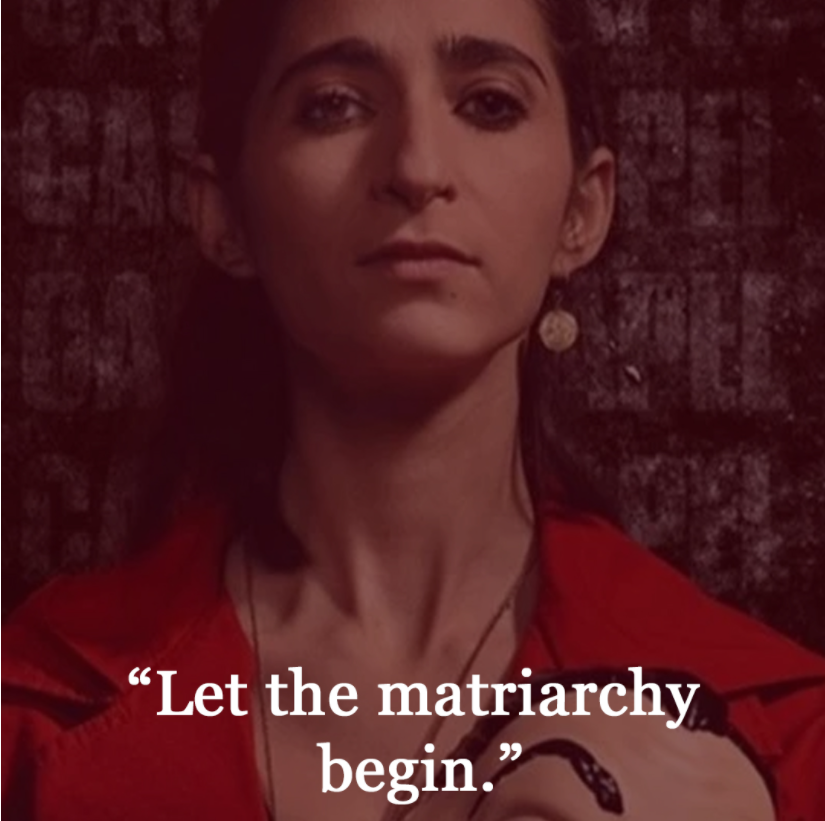 Take inspiration from Netflix; Money Heist's Season 5 marketing Campaign is such a successful blast because Netflix played to its strengths. It did what it does best, and the results are here for us all to see.
So what did Netflix actually do?
They personalized the promotional campaigns.
Well, it carried out country-centric marketing campaigns to promote the latest season of Money Heist. In India, the show will be released in multiple languages. To advertise the same, it created a star-studded Money Heist anthem video of 'Jaldi Aao,' featuring superstars like Anil Kapoor, Vikrant Massey, Radhika Apte, Shruti Hassan, Rana Daggubati.
Conclusion
Money Heist isn't just a show; it's an amalgamation of emotions, brilliance, and talent. An exquisite show like this doesn't just end with the story, its lives on in memes, hashtags, and our hearts, of course.
The colossal success of Money Heist season 5 is the culmination of a brilliantly conceptualized and executed digital marketing campaign. Digital marketing is the driving force of every brand today.
We have learned many important marketing lessons from this immaculate, and I can't wait to see what more the final season has in store for us.
Marketing Lessons from Money Heist Season 5