WhatsApp has recently been under fire with its new privacy policy update in 2021. Users have come across a notification asking them to accept the updated policies before February 8. If users don't accept these new privacy policies, they won't have access to their WhatsApp accounts. Under the Indian Government's instructions, WhatsApp has now withdrawn its mandate.
Many speculations are going around about WhatsApp sharing its data with parent company Facebook. In this blog, we will breakdown WhatsApp's policies and understand what the new update entails. According to WhatsApp's privacy policy update 2021, WhatsApp does not share your personal chats with Facebook or other Facebook companies.
What does this mean?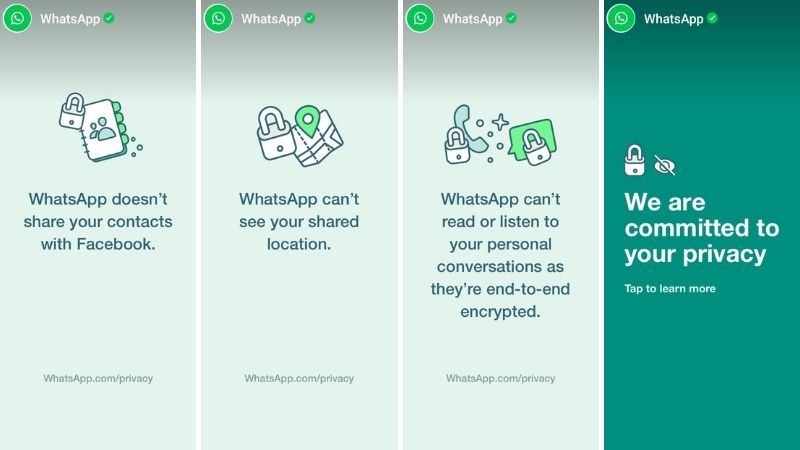 It means that when you chat with a friend, the chat has end-to-end encryption. Your message is temporarily stored in an encrypted form till it is delivered. Once the message is delivered, it is deleted from their servers. The message is stored in an encrypted form for up to 30 days for undelivered messages. If the message is undelivered after 30 days, it is deleted from their server. According to the policies, your messages are not stored on their servers; they are stored on your device instead.
The same applies to media files. When you share a media file with a friend on WhatsApp, the file is stored temporarily in an encrypted form until it is delivered and later used when you forward the same file with your other contacts. While WhatsApp does not store any of your messages or media files, you can choose to store it via a backup through third-party apps such as Google Drive and Apple iCloud.
According to its policies, the only information WhatsApp collects from users is their contact number and some basic information needed to create a WhatsApp account. It also collects your location information if you use its location-related features.
You can choose not to permit WhatsApp to access your location but will lose the chance of using that feature. Furthermore, WhatsApp does not record your audio or video calls. Like its chats and media files, it uses end-to-end encryption to protect your conversations for anyone, including WhatsApp itself.
Conclusion
Now that you know how safe it is to use WhatsApp, you can use it as a marketing tool to boost your business further. WhatsApp making the headlines due to its latest update was the lack of trust people have in its parent company Facebook which unfortunately has a bad track record in adhering to privacy policies. But it sure raises concerns with its mandate to accept the new policies before the deadline. European Union is the only country where WhatsApp is legally bound to restrict sharing its data with Facebook.
In India, users can either continue to use the app and hope for strict data protection laws to be implemented in the future or switch to another app that isn't involved with data collection practices. To know about the benefits of having a WhatsApp Business account to boost your business on the world's top messaging app, check out our blog "How to set up WhatsApp Business Account."