Twitter's downvote button gets one step closer to launch, as the company expands the testing worldwide. The new feature is reportedly going to launch in the next few weeks. But before it releases, we want you to have intel on how you can use this feature effectively to engage with your current audience, grow your followers and get more views!
This quick guide will uncover the nitty gritties of Twitter's new feature, and how as a digital marketer you can use it to know your audience better.
For those of you who don't know what the new Twitter downvote button is about, here's a quick overview:
Twitter downvote button: what is it about?
Twitter's downvote feature is essentially the opposite of liking any tweet. (🧡∝ ⬇)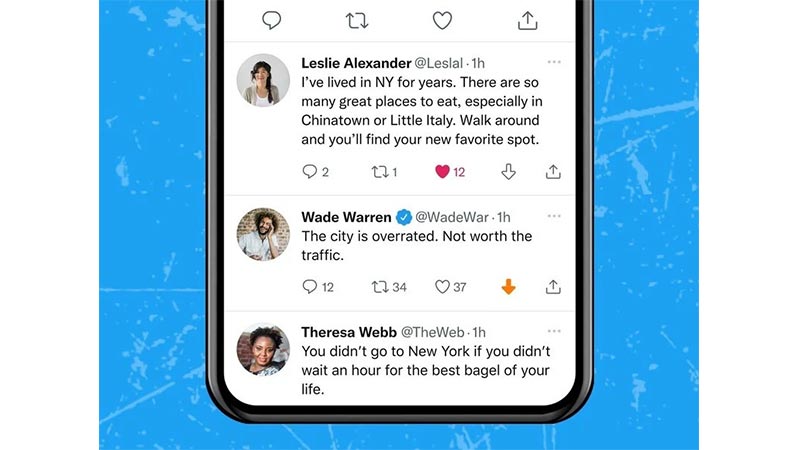 Twitter users have a reaction-based tool for (almost) everything they find intimidating on the platform:

Hearts for everything like-worthy, Retweets for everything likeworthy – over the top letting their audience know what they relate with the most, and Replies for when they have an opinion to share or have something to add to the context.
But how many times have you come across tweets you found relatively toxic, unjust, or not meeting the standards of a 'fair society?' Let's be honest. Quite a few times in a day alone! And when you do, seldom do you wish to interact with the person 'who's being toxic,' but at the same time you do want them, and others to know that their tweets are wrongful and they can have detrimental effects on society.

Twitter's downvote button will do exactly that and more.
Twitter's Downvote Button allows you to point out what you don't find good.
Twitter users will now be able to downvote any reply/comment they find demeaning or rather substandard.
Well, this was a brief overlay as to what Twitter's downvote button is all about.
But how this will carve the niche for digital marketing? Keep reading!
Twitter's downvote button: A digital marketing prop
Whenever any social media platform launches a new feature, content creators and digital marketing agencies are the first ones to put these tools to use.

So we have summed up for you a few ways how you can use the new feature before it's rolled out to the masses. So when it does, you'll be one of the first ones to optimize your social media and deploy the right marketing strategies into place.
Twitter's downvote feature is Twitter Polls, but better!
Digital marketers can use the downvote button as a comparative element. While this can be interpreted as polling, it's not the same. Polls on Twitter do not allow comparisons between graphic elements including illustrations, videos or images.
With the new Twitter downvote button, however, you can upload multiple pictures in replies, which will eventually create a Twitter thread. Now you can ask your audience which creative or design they find the most interesting. Depending on their preference, they can choose to like or downvote.
Know your target audience and find out what's trending: Twitter downvote button is more than what meets the eye
To find if the audience is truly engaging with a tweet, you earlier had to read through the entire Reply section, look for the hashtags and based on the Likes – and – Replies asymmetric proportion, you had to draw an outline as to whether or not the content is relative at large.
With Twitter's new feature, your constant research on 'what's trending' and locating your target audience will definitely take a leap forward. Your analysis will be even more intensive and knowing what the audience is engaging the most with will have more transparency.
Conclusion
Twitter's downvote button is surely going to amass a lot of mixed reviews. While we believe, the majority of the audience would use it to convey their disregard for the unjust behaviour camouflaged under the robe of 280 characters, we also feel it could have some wicked consequences too.

Users who don't like a particular public figure will likely push downvotes on their every reply/comment. This emotional ruckus can have a fatal fall on the new feature. But then again, it all boils down to your equation with your followers (and of course the content you create.)

Twitter's downvote feature will be available only in replies and comments, and not the tweet itself. Which we believe is right, as it will give lesser room for trolls to spam over.
Twitter in their initial reports said that initially, the downvoting will be kept private (that is, your downvotes won't be public or visible to the author.) Which means that currently the feature will only be limited to help Twitter curb toxicity and have better control over what is shared on the platform. We also believe this can set a tone for the Twitter algorithm in the future.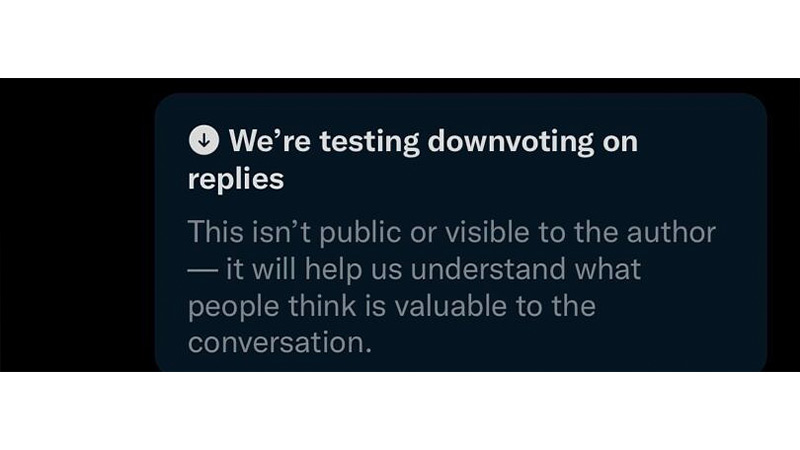 Well, we hope this guide gave you some insight into Twitter's downvote button and how it should ideally be used to promote your campaign and drive influence. 
What do you think about the new feature? Feel free to share your thoughts in the comments below!
Frequently Asked Questions
Q1: What happens when you Downvote a tweet?
Ans: As of now, Twitter has made it clear that they won't display the downvote analytics to the author or anyone on Twitter. Currently, the platform is using the new functionality only as feedback to improve the overall quality of the content.
Q2. What is the new down button on Twitter?
Ans: Twitter's downvote button is primarily a dislike button that will be available under every reply/comment on Twitter. You can use this feature to flag any tweet you find inappropriate or inappreciable on Twitter.
Q3. Why does Twitter not have a dislike button?
Ans: Mainly because Twitter users likely unfollow those accounts they don't find relevant or exciting on the platform. Which, if seen in hindsight, leaves little or no room for dislikes. Twitter's new downvote feature, however, will supposedly act as a dislike button only.
Q4. Why isn't there a downvote button on my profile?
Ans. Twitter, however in the testing phase, is slowly and gradually releasing the new feature for users across the world. Be patient and keep a check on your Twitter account.