LinkedIn is a precious tool for networking with like-minded professionals. As you may well know, LinkedIn is the world's largest and professional social network. But we do not talk about something here as often as we ought to: LinkedIn is also an effective inbound platform for marketing. For both professional audiences or B2B campaigns, the LinkedIn ads may be highly beneficial. With this, ensure that some of your cash is spent on LinkedIn advertising!
LinkedIn is not your typical social media advertising page. Its SEM is quite different from other platforms.
Learn how to market your business by using LinkedIn ads, boost website traffic and identify new prospects, and much more. Follow our article to find out what are the types of LinkedIn ads. We will also enable you to understand how you can reach your objectives.
Types of LinkedIn Ads
You have four primary types to select from when creating your LinkedIn ads. In addition, you may pick multiple forms according to the content and purpose of your ad in those formats.
Sponsored Content
These advertisements are comparable to those promoted in social media feeds. This form of an ad has the highest average cost per click (CPC). These ads are labeled as promoted ads to distinguish them from regular ads. There are three types of Sponsored Content: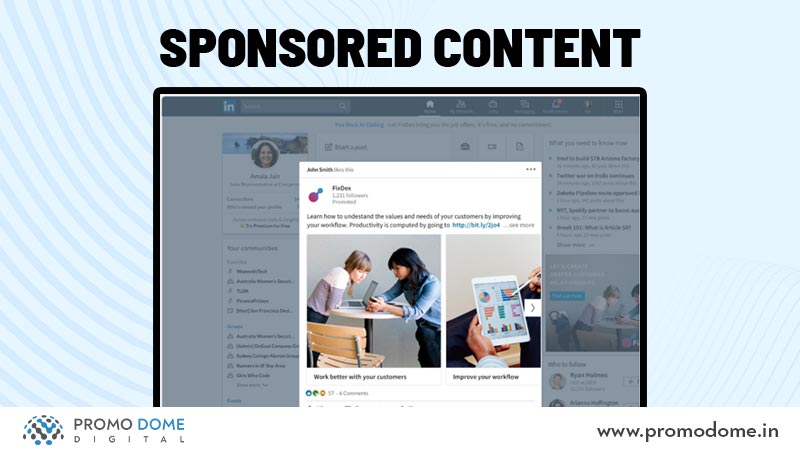 Single Image Ads: Advertisements using only one picture are called single image ads.
Carousel Ads: Advertisements that use two or more pictures are carousel ads.
Video Ads: It uses a single video.
Message Ads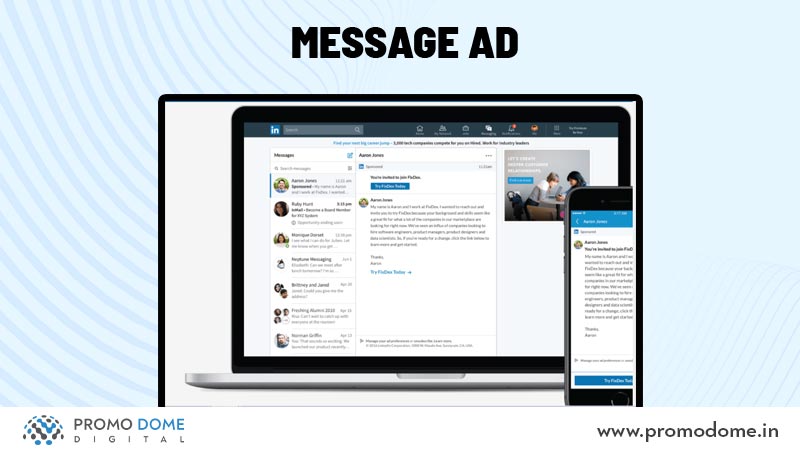 Message ads are sent directly to the LinkedIn inbox of your target audience. With this LinkedIn ad, you can deliver your information straight from your account to your audience and evaluate engagement on receiver responses and actions.
Also, note that your target audience will not receive the same message ad more than twice within a short time.
Dynamic Ads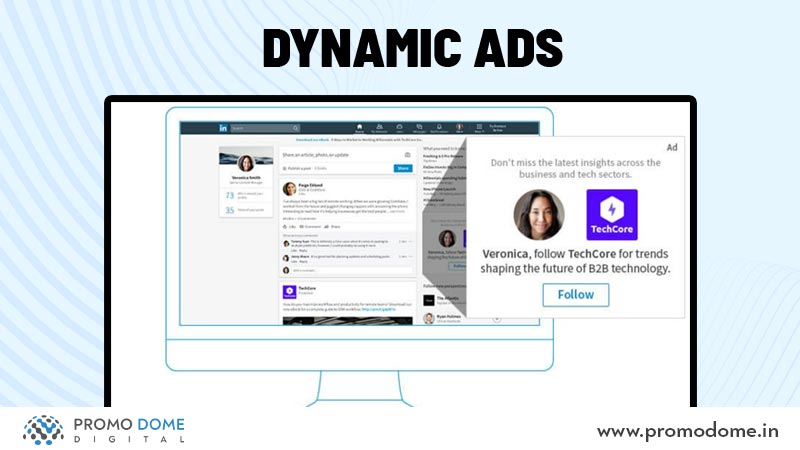 Source: LinkedIn
Dynamic Ads are customized ads that alter content depending on which audience member is watching them. For example, this sort of LinkedIn ad leverages the personal information of members to customize its creative content. This data is not shared with other members.
There are dynamic ads in three types accessible solely on the LinkedIn desktop platform:
Follower Ads: Ads that boost your LinkedIn Company Page by gaining followers.
Spotlight Ads: Spotlight ads that promote a particular offer.
Job Ads: Job advertising that encourages open jobs.
Text Ads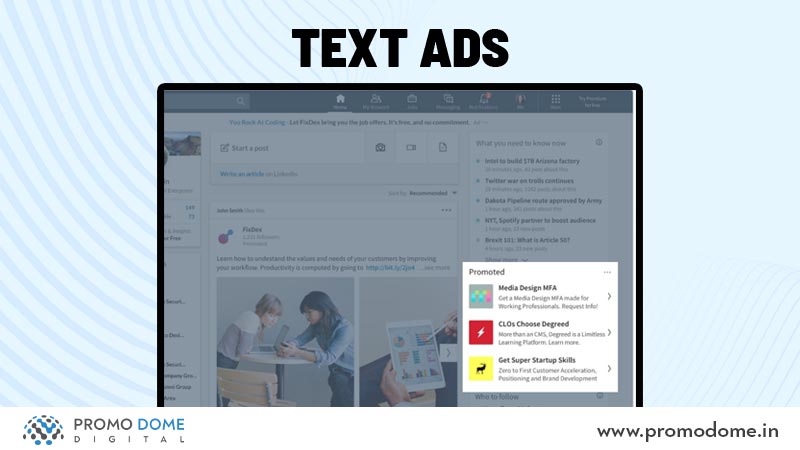 Source: LinkedIn
These LinkedIn Ads, are shown on the top of the page or right column. They are the most straightforward form of LinkedIn ads but help to raise awareness and reach your target. Pay for text ads per click or by print. It is a good option if you are looking to build strong leads with a professional demographic.
How do LinkedIn Ads Work?
Now you are aware of the types of LinkedIn ads, let us dive into the way LinkedIn Ads work.
It works in 5 steps
Choose an objective (awareness, consideration, conversions)
Choose target Audience
Choose an Ad Format
Set an ad budget
Measure the success of your campaign.
LinkedIn advertising is a two-stage process: 1) set up your LinkedIn campaign and 2) create your advertisement.
In this part, we will explore how to start a campaign and build your ad.
Create Your LinkedIn Ad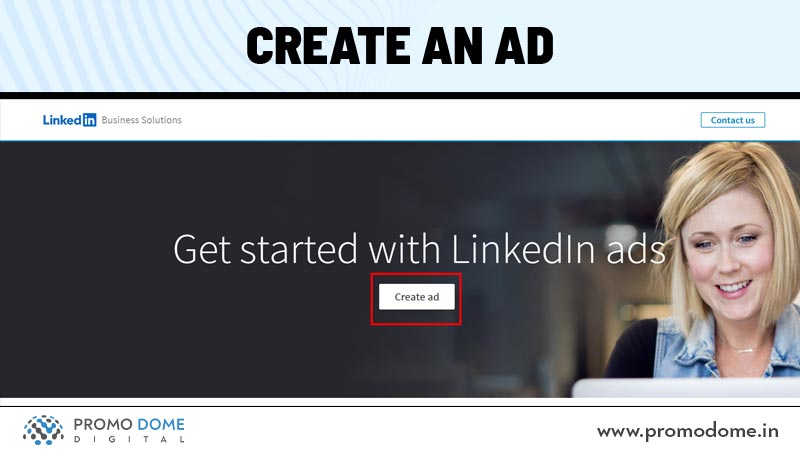 Source: LinkedIn
This is a separate platform from the one you see every day. Visit the LinkedIn marketing solutions page and get started with your campaign, and select create an ad.
From there, you will be requested to create a LinkedIn Campaign Manager account.
After you create a campaign manager account, you will see a member dashboard page.
On your dashboard, you can start setting up your campaign by clicking on create a campaign.
Set Your Campaign Objective
The next step is to choose your LinkedIn ad campaign objective.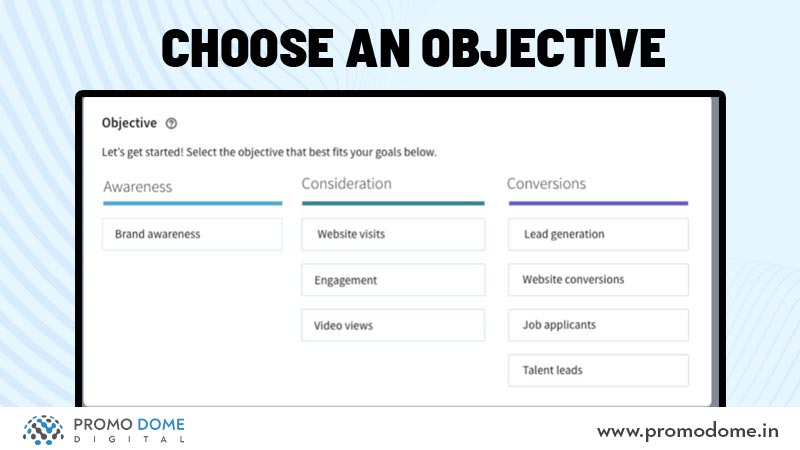 Source: LinkedIn
There are three themes to choose from Awareness, Considerations, and Conversions.
An objective is an action you want your audience to take after seeing your advertisement. Choosing your goal will assist in revealing ad layouts, features, and types of offers to help you create a campaign.
Designate Your LinkedIn Ad Audience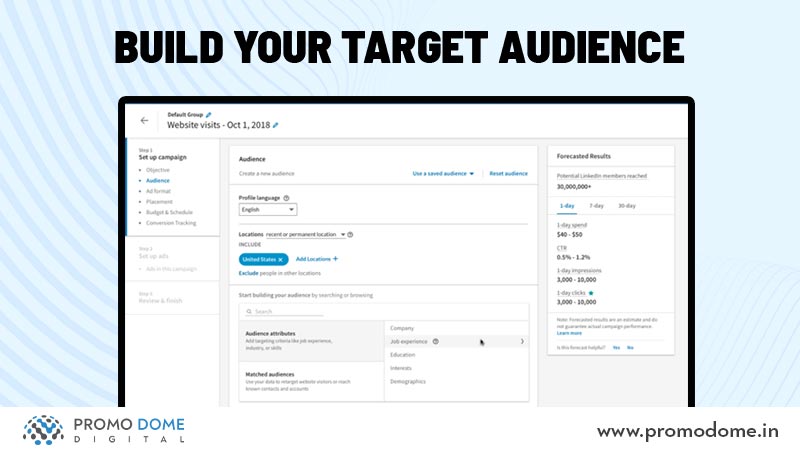 Source: LinkedIn
Next, you will be directed to build and save your campaign audience.
Targeting who sees your ad may help it achieve its campaign goal – the more detailed and relevant it is to your target demographic, the better it will perform.
Decide on Your LinkedIn Ad Format
Next is to choose from your Ad format. We have already explained in detail the types of LinkedIn ads. If you initially decide on the kind of ad to choose, it may come down to your budget. So first, describe your priorities, and then select the one that works best for you.
Select Your LinkedIn Ad Placement
You can decide where to place your advertisement to give you better exposure and reach. If you wish, you may also opt to block or remove specific categories, applications, and websites from the network.
Set Your Budget and Schedule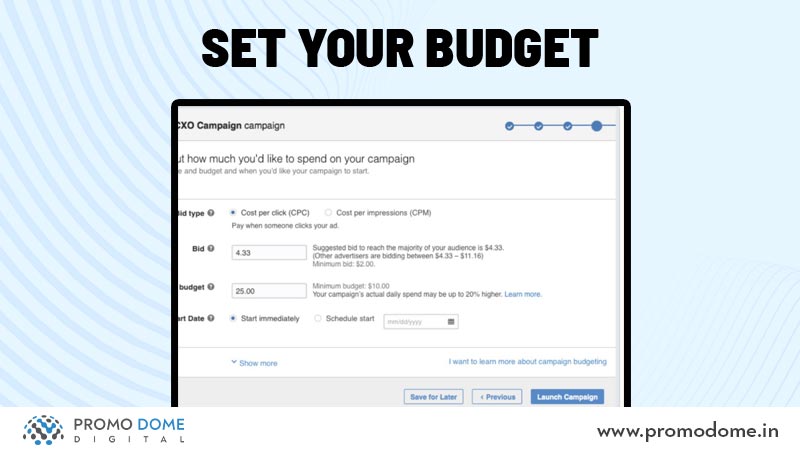 Source: LinkedIn
Test and assess the performance of each campaign and ad variant before investing a lot in one. LinkedIn Ads can successfully target specialized audiences due to their wide range of targeting options. But the cautious testing is essential to conduct early – if you witness a successful campaign, more money can be placed into it.
You can schedule a start date for your campaign. Also, there are three options available if you click on bid type. It might be hard to decide the optimum bid type. Consider your final objective when you choose between CPC and CPM. Are you attempting to get as many people as you can to see your ad to aid branding? If so, your best choice may be CPM.
On the other side, CPC could benefit you if you want to have more people clicking on your advertisements to get your website to traffic or create new links. Some trial and error may be essential for your ideal maximum offer.
Conversion Tracking
Conversion tracking is optional but can be extremely useful for your business. It will measure the actions people take after clicking on the ads.
Provide Payment Information
Once you enter all the payment details, you will be ready to launch!
Conclusion
LinkedIn ad campaigns can enormously influence your marketing success with the appropriate amount of patience and strategy. LinkedIn offers a robust advertising platform, and don't leave this out of your marketing list of social campaigns. Thousands of new business leads can be achieved with a well-researched, tailored campaign.