MOZ SEO is a one-stop solution for businesses that require SEO professionals to successfully manage their campaigns. In this article, we will be discussing the products it offers along with the complete pricing package, to help individuals and businesses to become more proficient with SEO practices.
What Is MOZ?
MOZ is a Search Engine Optimization business that concentrates completely on helping clients in running effective SEO campaigns. It focuses on providing your business in gaining potential traffic that converts into sales. MOZ offers various products to help you make smarter marketing decisions for your business. Let us discuss in detail all the products that MOZ SEO has to offer.
List Of MOZ Products?
MOZ PRO
Moz Pro is a one-stop destination for organizations looking to handle all areas of their SEO strategy. In addition to Google Analytics, it's a fantastic tool to have.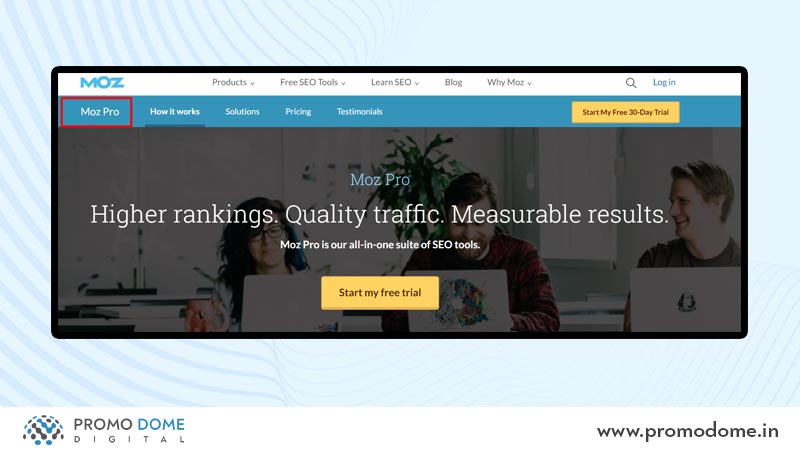 Keyword Research
Moz Pro assists you in gaining a deeper understanding of your target audience. When people visit your website, you may learn how they got there. You can tell if they came through sponsored advertisements, search, or social media by looking at where they came from.
The first step of creating an SEO strategy starts with keyword research. This tool gives a better understanding of your target audience.
Keyword research has an influence on all other SEO tasks, including content topic generation, on-page SEO, email outreach, and content marketing. You can effectively predict which keywords people are exactly looking for while searching for your business.
That's why, in most SEO campaigns, keyword research is the initial step.
To put it another way,
Keywords act as a compass for SEO initiatives, indicating where you should go and whether you're making progress.
Site Rankings
The goal of a business is to appear in Google searches. To raise the visibility of their products or services. MOZ Pro SEO tool enables your business by examining many areas of digital marketing strategies, such as optimizing your content, enhancing the user experience on your website, correcting any broken links, and optimizing for local search, among other things. They provide a variety of tools to improve the success of your SEO strategy.
You can see if your campaign is working for your target demographic using Moz Pro. It gives you the ability to see how you rank for specific keywords. You'll also see how you stack up against your competitors for various keywords.
You can track local and national searches using Moz Pro. You'll have a better understanding of your campaign's overall performance and how your site compares to your competitors.
Pricing Of MOZ Pro?
The price of Moz Pro varies depending on the plan you pick and whether you pay monthly or annually. Monthly options range from $99 to 599 per month, while annual plans range from $79 to $479 per month.

MOZ Local
The second product offered by MOZ SEO is MOZ Local. It is great for small businesses and local enterprises. It's simple to improve your company listing with Moz Local. They simply require you to fill out the information once for each location. The remainder of the data is generated automatically for you.
You'll learn how search engines rank your site with Moz Local. Moz Local provides automatic services that search over your site and identify places where it may be improved. It also allows you to see how customers engage with your listing. You'll learn how to optimize your listing so that it's better for both search engines and visitors.
It will assist you in determining which areas are failing and which are performing well. You'll also be able to observe where you're falling behind your competitors. It's an excellent tool for assisting you in maintaining your brand's reputation.
Pricing Of MOZ Local
The prices for the Moz Local Small Business and Enterprise packages are the same. Your pricing is determined by the type of plan you require.
Conclusion
Starting your SEO strategy might be a daunting task. MOZ SEO will help you to improve your local search ranking.