Everybody knows SEO plays a crucial part in optimizing any website. So if you're into it, you must have heard terms like Black hat SEO and White hat SEO. These are two out of the 12 different types of SEO. The names themselves suggest the meanings as one is good and another one is not so healthy for your site. White Hat refers to good SEO practices, while Black Hat is a term for harmful SEO practices. Many people use them to boost their website's rankings. But the black hat SEO does not incorporate healthy practices. 
Through this blog, you'll understand the difference between Black hat SEO and White hat SEO techniques and also see the methods followed. Once you decode everything about them, you'll understand how and which one to incorporate into your daily SEO methods for your brand. 
Difference Between White Hat And Black Hat SEO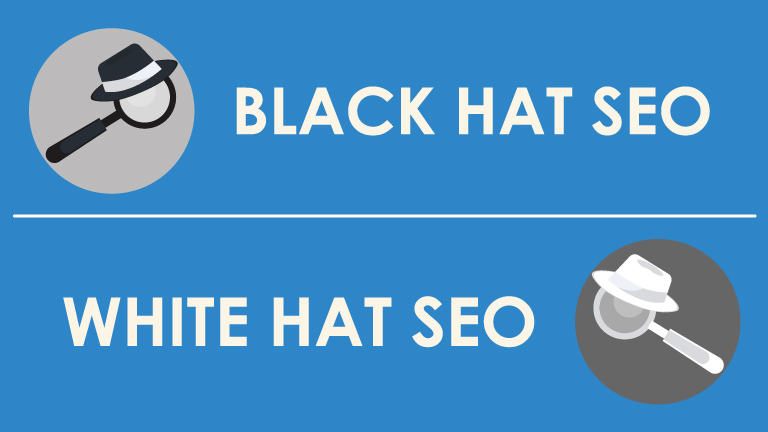 Now that we understand that both of them are opposites when it comes to optimizing any page let's jot down the major differences between the two.
White Hat SEO
White Hat SEO is the term used to refer to SEO practices that work within the guidelines and terms of service of search engines that boost SERP rankings. They improve the sites' overall performance while maintaining and working under ethics. This ensures that the website is filled with high-quality content and caters correctly to the audience. So when one is searching for the query, they get proper answers.
This practice involves using proper keywords, effective marketing strategy, and incorporating great as well as relevant content while staying within the boundaries set by the search engines. Sites optimized using this technique are easily visible since you're using descriptive and keyword-rich Meta tags.
Websites that use white hat SEO consist of natural links, properly researched content, and titles that fulfil the purpose of information passed. All this is established on the industry and relevancy that's why it works so well while getting traffic to the page. White hat SEO drive strategies that focus more on audiences. This ensures that people get long-term benefits rather than abrupt waves of traffic.
Now you must be thinking, why does this practice get more traffic? This type of SEO gathers a higher ranking through organic means since the search engine approves it. Using white hat SEO, you can improve your site ranking on search pages.
Now that you have understood the basic outline of how White hat SEO works, let's enlist all the techniques that drive this healthy SEO practice.
White Hat SEO Techniques:
The following are the techniques that are used in White Hat SEO:
Conducting proper research for relevant content that solves the query or provide the user with the information they were looking for.
Analyzing the data collected.
Proper keywords are added at the places required without overstuffing.
Redesigning the website content in order to improve the quality of the content.
Structuring content in a way that is easy for mobile users to understand and is not difficult to read.
Ultimately adding content that satisfies the need of the visitors who have come to your site.
You can follow these healthy techniques to optimize your page, but what makes Black hat SEO and White hat SEO different? Now that you know about the good guy let's see the bad guy's characteristics.
Black Hat SEO
Black hat SEO practices lead you ahead the fast route but surely is the harmful way to move forward. In this way, you will lead faster and boost your rankings higher in the search engine, but that is not beneficial in the long run. In Black hat SEO, users trick the search engine into thinking that a site is more relevant and solves the query better. People stuff their sites with keywords and other malpractices that ultimately get the website banned.
Basically, it is a practice of leading viewers to useless sites that top the chart or SERP but don't contain any relevant information. This ultimately affects the search engines' reputation; hence they try to remove these sites. Search engines like Google disapprove of this behaviour as users are unsatisfied with their experience. Search engines impose many penalties for using these techniques and can even ban your site from ranking. For a better idea, let's see the techniques involved in Black hat SEO and the penalties users face after following these.
Black Hat Techniques And Penalties
Listed below are some of the Black Hat practices that some SEO practitioners use to boost their site rankings faster but ultimately end up getting banned:
Techniques Involved:
Plagiarism and replicating content: Users of this SEO type usually try to copy and rephrase the content of top-ranking sites. They typically try to utilize the same content from a relevant website and rewrite it. This erases the effect of authenticity.
Keyword stuffing in the content: Keyword stuffing is simply spamming the content with keywords. The right way is to add relevant keywords at the required places instead of filling the content with them. This is done to manipulate search engines' ranking.
Irrelevant links: One of the techniques involved also includes links in them. Black Hat SEO users initiate the process of bad-paid linking. Links in this category are generally spammy, which leads to irrelevant and even explicit sites. This is done to make money in favour of sending customers to these sites.
Redirecting to another site: Similarly, users are redirected to other sites while clicking on the links. When they click on your website, they're redirected to a website that might be irrelevant and spammy.
Cloaking: Through this method, viewers and search engines both are confused. Simply put, portray some content to viewers and others to the search engine. Practitioners change the content for search engine crawlers so that their website ranks. But the content holds little relevancy.
Hidden texts and links: Some websites hide content from the users but are visible to the search engine. Basically, web developers incorporate tags and other things inside their codes. This is called invisible spam, which results in gathering traffic to the page.
Using these practices can definitely get your website banned. That is why you must rely on an SEO expert or team of practitioners who can implement good SEO practices and gradually help you build your brand identity on the SERPs. You can even connect with an advertising agency that closely looks after all your marketing aspects (including SEO) and guide you in enhancing your business's presence on the internet.
As you now know, using these practices can get your website banned, and you must also know the penalties faced by these prohibited sites.
What Are The Penalties?
As we have mentioned, search engines are very strict when it comes to maintaining good SEO practices. Search engines like Google ban or remove the site that is caught using any Black hat SEO techniques. This can be done for a particular search or entirely depending on the offences done by the page. Search engines can even penalize you by downgrading your website's ranking or completely blocking your website.
We have given you an overall overview of the techniques involved in Black hat SEO. You must know these aspects if you're looking for a team or ad agency to rely on for your website's optimization. A good ad agency would never engage in Black Hat practices. This is very harmful and is not supported in the long run.
Conclusion
So now that you know the difference between Black Hat SEO and White Hat SEO, you'll better understand what should go on your site and what you should refrain from doing. The future of SEO Services is robust as it will define the working of many businesses in the long run. Ultimately, it will help you connect better with your audience. In the end, optimize your overall ranking on the SERP.