Video marketing involves using video content to promote or inform your target audience about your brand or products. Several factors are considered while producing promotional video content. As a content creator, you must be wondering why is video editing important and what role it plays in video marketing.
The video editing process is the most crucial factor that combines all the different aspects of video production and creates a coherent story. Brands can use a variety of video formats and distribute them across various digital mediums to be omnipresent across the web.
We will explain the details of video marketing in depth and why is video editing important in this powerful marketing strategy.
Why Is Video Editing Stage Considered Important?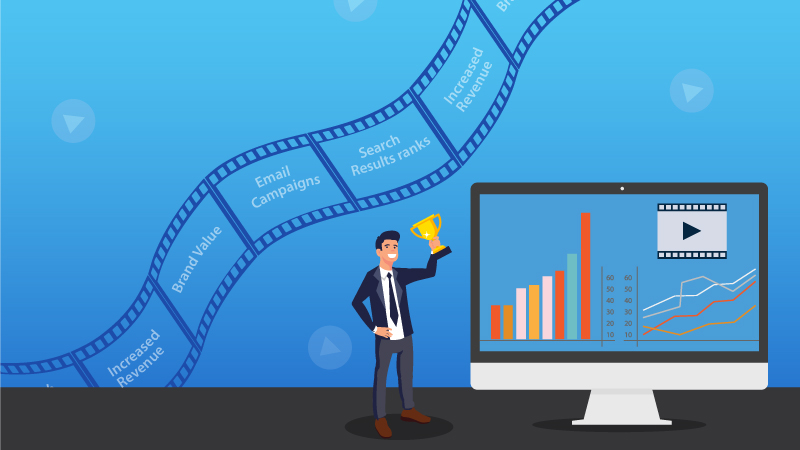 You must have heard that a picture speaks a thousand words. Well, multiply that by another thousand. That is the impact a video can have on your marketing campaign. The most significant phase of video production is creating the video's final version. It involves video editing that blends the various shots with appropriate sounds to establish an emotional connection.
You might have a team to shoot interesting and thoughtful footage, but if that footage lacks the sense and flow of a story, your message will be lost. Therefore, to create excellent video content, you must ensure to prioritise the final edit.
With the help of professional editing services, you can create intriguing stories in your videos that connect with your target audience. It helps you to get maximum engagement and effortlessly deliver the message to your audience. Professional video editing is always better than DIY video editing and ensures the videos are engaging and interactive.
Video Editing Workflow Steps
Video editing is already a tedious task. If you don't have a standardised workflow process, you will spend extra hours on a single project and miss the pre-decided timelines. The workflow methods elaborated below help you to conserve time and make room for creative decision-making.
1. Collecting Raw Footage
Before you begin editing, ensure you have collected all the different parts of your footage, including graphics, intros, audio tracks, voiceovers, b-roll, etc.
2. Organising The Raw Footage
Once you have collected your raw footage, it's time to organise them in separate folders. Organising your video assets is the first step to getting on a successful editing workflow. Back up your footage and audio tracks to multiple drives or cloud-based storage systems. Even if you use video editing software, ensure you have dedicated folders for each video asset. An organised system gets you in the creative flow and prevents wasting time on unnecessary activities.
3. Craft The Rough Cut
Once you have imported all the organised clips and assets on the editing software, it's time to streamline them on the timeline. Bring all the footage together and start putting them in order. You can perform trial and error to get an idea of the visual pacing and symmetry of the final video. The purpose of this step is to see a clear picture of the complete video order before you start applying significant cuts or visual effects. Don't stress about getting things perfect at this stage. Just make sure that you are moving in the direction of the bigger picture.
4. Refine The Rough Cut
Once you have got the rough cut in place, you need to look at its nuances, like potential cut points and the overall flow of the video. You can notice and note the things that you want to change. Look for changes in narration or voiceovers. It is a crucial part of the video editing workflow, ensuring everything in your video is fine-tuned perfectly before getting on to the next stage. Ask yourself questions like does it cover all the correct information? Does it align with my target audience? Is the message clearly delivered?
This step aims to reach the picture lock stage, where you have trimmed and edited your video so well that you commit not to make any big changes unless absolutely necessary.
5. Add Visual Effects
Once you have your picture lock video ready, it's time to add some visual effects like animations and transitions that will appear in the final video product. Also, adjust the colour grades to suit the scene and mood at different points of your video timeline.
6. Sound Mixing And Audio
Once you have added the visuals, it is time to add and tweak the audio part of your video. Drop-in different soundtracks to balance everything. Clean the audio tracks to minimise the noise and make the voice or music more transparent.
7. Final Watch Throughs And Export
Before you wrap it up and put the video out into the world, watch it closely at least twice. Spot the missing elements, misplaced aspects, or any unnecessary audio. It helps avoid embarrassing mistakes and generates a better response to the final video product.
Advantages Of Video Editing In Video Marketing Strategy
Video marketing has gained massive popularity in the recent few years. More and more businesses seek creative solutions to produce videos and increase customer engagement. Whether you are promoting a YouTube channel or deciphering the code to make product videos for marketing, here are a few advantages of professional video editing.
1. Boost Engagement Rates
Professionally well-edited videos clearly capture your users' attention and drive more engagement on social media than other content forms like photos or text. They also lead to lower customer acquisition costs.
2. Connect With Your Target Audience
Most of your target audience prefers videos from their favourite brands rather than other types of content. So, if you are still using the old photo or text techniques to grow your brand's digital presence, it's high time you start promoting video content. A well-edited video is a great choice to engage a large proportion of your target audience.
3. Gain popularity Among Viewers
Video content is shared more than images or plain text. So if you make professionally edited, engaging videos for your brand which your audience likes, there is a high chance for it to become viral.
4. Higher Recall Factor
With the help of professional video editing, you get to create high-quality videos. They are visually far more appealing and engaging than non-edited videos or videos with some basic edits. Superior quality video content helps to build a better brand in the long term. It leads to high conversion rates and greater customer retention by effectively communicating your message.
Conclusion
Now you know why is video editing important, and it cannot be left to chance to create a powerful video marketing strategy. Without the backing of a professional editor, all other aspects of your video production can never come together to create the masterpiece you are trying to make. The sooner you start a video marketing strategy, the better it is to establish a successful brand. Also, numerous businesses use this brilliant marketing strategy to influence the purchase decision of users.
Business owners must know how to leverage some basic video clips and turn them into excellent marketing tools to attract new customers and retain existing clients. That is where video editing plays a crucial role.