How do websites maximize their potential through SEO digital marketing services? SEO (Search Engine Optimization) is responsible for improving the website's visibility and online presence on the search engine.
Most of the time, people do not look beyond the first page or the top 10 sites while searching for a query. This is where SEO comes in. If you want to get your website noticed, you must increase the website's visibility and get traffic organically.
In the end, SEO marketing is the culmination of creating valuable content and hiring professional SEO digital marketing services to increase organic traffic to the website and reach its target audience. So, let us begin by explaining what are SEO services online.
SEO Services: What Does It Mean?
Professional agencies offer multiple services, among that are SEO services. The main aim of SEO services is to improve the website's visibility on the SERP by attracting organic traffic on the web.
This includes content development strategy, keyword research and optimization, outreach, and on-page and off-page SEO, among other things. This combined helps the brands generate organic traffic on its website.
Benefits Of Hiring Professional SEO Services Online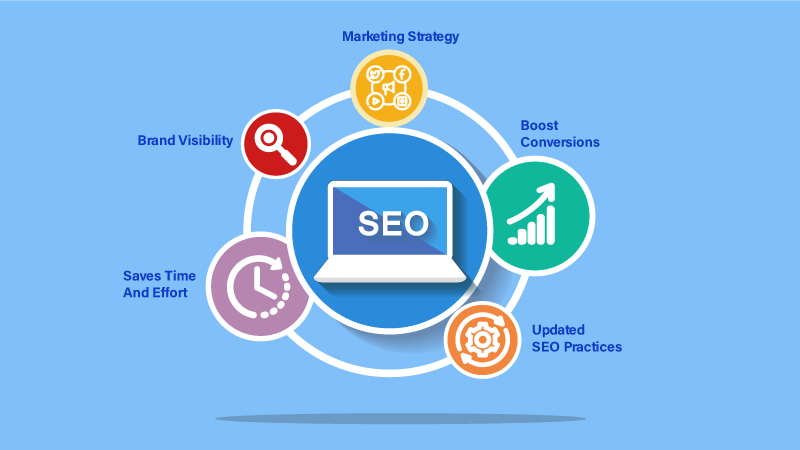 To maximize your website's potential to generate revenue, you must know how to increase website traffic organically by outsourcing professional SEO help.
We'll go through how outsourcing an SEO may boost your ranks, bring in more leads and consumers, and significantly reduce your marketing expenditures, along with some other advantages of working with an SEO firm on your website.
Brand Visibility
An experienced professional SEO agency will analyze your website, objectives, and competition to develop a custom strategy to boost your rankings in search engines. In addition, they may monitor your development and alter their plans to keep you moving in the correct direction toward your goals. This is precisely how to increase website traffic organically, as experts will help improve the website's visibility.
Boost Sales And Conversion
The entire point of hiring expert SEO is to boost visibility that, in turn, brings sales and generates revenue for the products and services. In addition, strategic SEO marketing increases the percentage of visitors purchasing.
SEO digital marketing focus on improving user experience and building high-quality backlinks that increase the authority and credibility of the site's content.
Saves Time And Effort
SEO professionals help to maintain higher rankings that benefit the company. Moreover, it is cost-effective, but at the same time, it requires regular monitoring. As the website is not ranked immediately, it does involve some effort. For example, experts build backlinks, monitor competition, improve social media presence, and brainstorm new content ideas. This will help the website gain trust and authority when the customers are happy with the valuable and engaging content.
In Line With The Current SEO Practices
SEO marketing follows the most effective SEO techniques to boost traffic. Apart from maintaining quality content on the website, an SEO professional has to pay attention to a million things that, include the following:
Lower loading speed
Optimizing the title with keywords
Optimizing image ALT text
Internal linking to other blogs and website pages
Improving the website's User Experience
Building backlinks for the website.
Conclusion
This is how to increase website traffic organically by hiring professional SEO digital marketing services. It has multiple advantages that help to enhance the website's potential to generate organic traffic. But first, investing in expert assistance for improved traffic and conversion rates, brand exposure, and keeping up with the latest trends and methods are essential for a successful online presence.