Web designers are constantly looking for the latest trends in web development. As the industry evolves, it's only natural that web designers constantly learn new things and challenge themselves to develop fresh, original brand ideas. Furthermore, as the website is the face of a brand, web designers must keep track of the latest website trends. So, if you are a web developer who stumbled upon this page looking for current web design trends, here we go.
What Are The Current Trends In Website Design?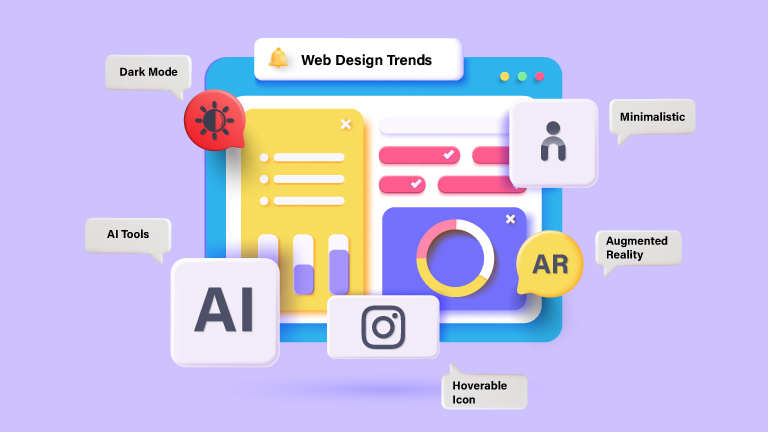 Brands place their trust in designers to make their web page stand out from the competitors and make it look appealing to the target market. Before jumping on the latest trend, designers should keep a few things in mind if they want to deliver a positive digital experience for users. The site's responsiveness and mobile friendliness are prerequisites. A website, for instance, has to work on a wide range of devices, from desktop computers to tablets and smartphones.
Minimalistic
Many brands and agencies believe in delivering clean and simple websites with many benefits. For example, the web page can include pastel colours, a monochromatic layout, straightforward typography, etc.
A minimalist web page will have the necessary elements to communicate. For instance, a developer would guarantee that a website loads faster and that a design layout allows easy call-to-action access. Furthermore, it is an excellent psychological trick as a user's decision-making ability is faster as there are minimal things to choose from. A great example is the Zara website's clean white background with full-screen images of the designs at a time. In addition, the navigation on the website is easy to understand as its clutter-free.
Augmented Reality
One of the current website trends in 2023 is Augmented Reality (AR). Web designers adopt AR technologies to display products. It promotes user engagement and allows brands to provide an immersive digital experience to customers. AR also deepens customer relations online. A prominent example of providing AR services are beauty and clothing platforms like Nykaa and Asos that allows the customer to try and buy. This is one of the latest trends in web development.
Retail shopping during COVID-19 became impossible. So, many e-commerce sites like Nykaa and Myntra allow you to try and buy. This elevates the user experience before purchasing the product.
Hoverable Icon
The hover effect on a picture is not only aesthetically pleasing but also rather practical. Customers may get further information about a product, including full descriptions and images, without navigating away from the page they're now on. In addition, hovering over a picture makes it larger and displays valuable and relevant text.
This little feature on the website page can convert a potential customer into sales and improve user interaction and engagement. The latest web design trend that several popular online retailers, like Amazon and Myntra, have embraced to improve the usability of their sites is to include a hoverable symbol on the product photos.
AI Tools
One of the most requested website UI designs is chatbots. Although AI may never be able to replace human innovation fully, it will help businesses better connect with their customers and open up new avenues for growth. So, if your company is an ed-tech provider, a chatbot AI tool may aid in students' and professionals' navigation and course selection processes.
So, as a web designer, if you are thinking of upgrading and wondering what are the current trends in website design then incorporating AI tools is a no-brainer. A successful chatbot in the service industry is perfect for taking feedback and surveys and supporting the back-end team in solving customer queries. This reduces the time to reach out to the customers and improves the time to launch a new product in the market.
Dark Mode
Many social media platforms like Facebook and Instagram have started to allow turning on dark mode.
The dark mode is light-colour fonts and texts on a black or darker background. It helps the user on the page to focus and concentrate better. Also, dark-mode websites are better for keeping users away from distractions.
Conclusion
These were our top 5 picks for the web design trends to watch out for in 2023.
The ultimate aim of website developers is to provide an immersive user experience to their target market. With our team of expert web designers, we can offer custom web designing for your websites if you are looking for one.