SEO is the most critical factor in optimizing your website blogs. It helps your blog beat other websites' blogs and top up on the result page. You can find various SEO tools like Smallseotools, Semrush, Ahrefs, etc. However, you must use the one who can help you bring maximum traffic to your website. If you got confused about Semrush Vs Ahrefs and wondered which one is better, you are in the right place.
These SEO tools can be compared based on industry-leading products like domain analysis, keyword research features, backline analysis, site auditing, broken link analysis, ease of use, pricing and value of money, support, etc. This blog has laid out the complete comparison of Semrush vs Ahrefs.
Semrush Vs Ahref: Which Is Better SEO Tool?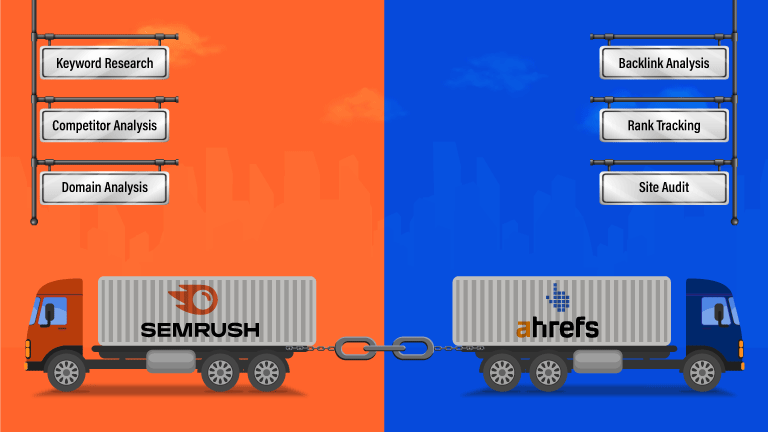 Indeed they both do a bang-up job of bringing traffic through blogs. But we must look at the differences below to decide which is better.
Ahrefs Vs Semrush – Domain Analysis
Domain analysis is a general review of how the website works, and the quality of analysis for both Ahrefs and Semrush is equal. However, when it's time to see the Key metrics, Agrefs gives ease to Semrush, where you must perform multiple clicks to find the Key stats.
To use the domain analysis, you must enter your competitor's or your website's domain name. Then, on the dashboard under, Semrush's authority score and Ahrefs domain rating tell you how well the website performs.
Ahrefs Vs Semrush- Keyword Research Feature
Keyword Research features of Semrush and Ahrefs are similar, but the one thing that differentiates them is backlinking. Along with determining the hassle of keyword ranking, it also tells the requirement of the backlinking in your blog to rank. Unfortunately, Semrush doesn't possess this feature.
Ahrefs Vs Semrush- Competitor Analysis
To know what you need to do to rank your blogs, the first thing you must perform is to overlook your competitor's website. Try to understand what strategy they have utilized. When you use both tools to overview your competitor's website, you will find Smerush more helpful than Ahrefs. Semrush provides detailed insight.
Ahrefs Vs Semrush- Backlink Analysis
Both tools provide backlink information to bring traffic to your blog and the result page. However, the backlink information presented by Semrush is more impressive than Ahrefs. You get the "link intersect" tools that help you compare your website's URL with competitors. The comparison will list websites linking with your competitors, not you.
Semrush also offers several backlink features that Ahrefs does not have. The first feature is backlink auditing tools, which inform you about the toxic (spammy links) used on your website. So you can remove it, or your website can be penalized. Smerush is no doubt better than Ahrefs in this matter. However, the magnificent thing about Ahrefs intersect tool is they let you compare the URL with 10 other websites, whereas Semrush only allows you to do it till 4.
Ahrefs Vs Semrush- Rank Tracking
Rank tracking is also known as position tracking or SERP tracking. This feature lets you keep track of your daily website ranking. Both tell you the accurate keyword volume but with different price ranges. Calculatively, Ahrefs are more generous and low-priced than Semrush.
Ahrefs charge you 199$ for 2000 keywords and 399$ for 5000 keywords. Whereas, Semrush charges 229$ for 1500 and 499$ for 5000. Comparatively, Semrush is expensive.
Ahrefs Vs Semrush- Site Audit
The site auditing feature crawls all the pages of your website and tells you the SEO health score. Using Semrush to get the report is more accessible than Ahrefs. But it gives you a complete insight into site auditing. You will find your website health score with errors and issues distribution on the screen while using Ahrefs, unlike Semrush.
Conclusion
So what to choose, Ahrefs Or Smerush? Both tools have great features. You can choose anyone to analyze your website growth. It isn't like one is better than the other. They both are excellent in different parameters. So it mainly depends on your need. Ahrefs is, as you can see, the most excellent option for people who require information from multiple search engines. Semrush, on the other hand, is for users who demand more feature-rich tools. These tools are not just options in terms of SEO. They are also an excellent opportunity to nurture your website in the right ways. However, no matter what tool you opt for, ensure to hire an SEO expert or digital marketing agency, as they can operate these tools in a better way and provide you the detailed insight into your website growth.