UTM builders are codes that can measure the performance of the campaign. Digital marketers need to track the success of various digital campaigns, whether ad posts, social media posts, website content, blog posts, etc. UTM tracking link is responsible for telling you whether your marketing efforts are showing positive results for brand awareness. 
If you are someone who has never heard of UTM before, then this guide on UTM parameters is for you. We would like to start with a good back story about UTM links and how they came into existence. We will also guide you on how to use UTM builder, which you can use to track your website or help your clients achieve the desired ROI on campaigns.
What Is UTM?
UTM is an acronym for Urchin Traffic Monitor. It was developed in 1997 as a web analytic software, and later, in 2002, it was reinvented into UTM to provide more detailed data website statistics and analysis. Eventually, it was bought by Google, now known as Google Analytics (GA).
What Are UTM Parameters?
UTM parameters are short and simple codes at the end of the URL link. So, there are five parameters that a digital marketer can add to the link to generate the value of social media platforms.
Source
Medium
Campaign
Content
Term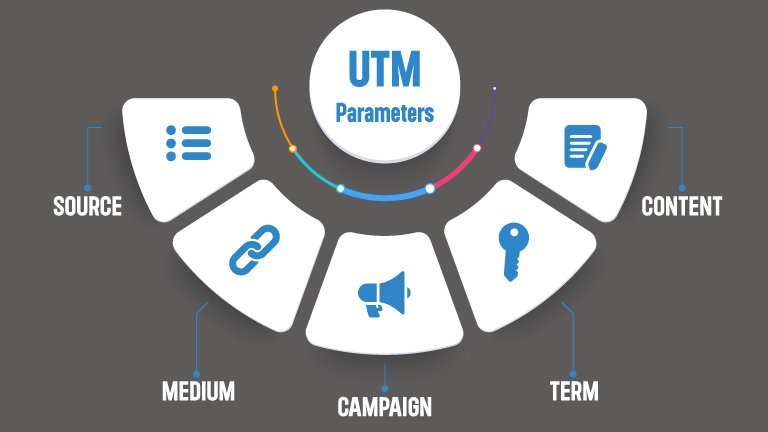 Let us understand the UTM meaning and its parameters with the help of an example:
A typical URL looks like this:  HTTP://www. promodome. in/?
But a UTM tracking link will look like this: http://promodome.in/?utm_source=google&utm_medium=social media&utm_campaign= name of the campaign post.
Now, let us explain in detail and understand how it works by comprehending each parameter.
Source: This information in the URL link means where the user came from. It defines the traffic source. It can be Google, YouTube, Facebook, etc.
Medium: With this, you understand and can track from which medium the user came across this link. This tells you the content that captured the user's attention—for example, a blog post, a video, a social media post, etc.
Campaign: This parameter will inform you about the campaign you are running for promotion or paid marketing.
Content: This parameter part helps you distinguish which content gets the traffic.
Term: This signifies the keyword used for the promotion, generating traffic.
As you know the UTM source and other parameters, let us focus on why these UTM codes are essential for promotional activities. We will also explain how to generate UTM codes for your campaign URL builder.
Why Are UTM Link Builders Important?
UTM source or UTM tag provides in-depth data on the quantity and quality of traffic from various sources to your site.
To get the most out of Google URL Builder, you can build strategies around marketing activities to get an accurate date on conversion rate.
It also allows you to do split testing of two different versions of the same post to see the difference.
It helps you enhance the user experience and allows you to decide on the preferred channels of promotion that bring you the most traffic and conversion.
How To Use UTM Parameters In Google Analytics?
Let us look at how to use Google URL Builder to create UTM codes. There are two ways to generate UTM codes. The first option is to do it manually, which can be tricky and challenging because you might make an error. The second option is to use Google URL Builder, a quick way to generate UTM. Let us examine the steps to create a UTM code:
Head to the Google Analytics page; add all the website and campaign information here. Add all the desired parameters like the source, campaign name, term, content, and medium.
Once you have filled out all the information, it will automatically generate the URL tag.
This will be the permanent link you share on all your social media accounts and other marketing channels.
Any time a user engages with the link, data is transmitted to the Google Analytics account, where you'll discover everything you need to examine the marketing campaign's development.
The GA reports area is where you will find all the campaign information. An in-depth metrics analysis can be found here, including session duration, page views, and user engagement.
Conclusion
This was all about UTM builders and UTM parameters. Google Campaign URL builder is one of the essential aspects of marketing. It is an intelligent way to analyze and tweak your strategies, as the end goal of any marketing campaign is to generate ROI and help the brand to reach the maximum target audience. This saves time, money, and effort because it lets you figure out what's effective and not working out for the brand. You can even track the conversion and see how the audience reacts to influencer marketing and affiliate links.