What is search intent? Search intent is also addressed with various phrases. It is also known as user intent or query intent.
Although it has various names, let us dive into the topic of search intent in SEO and the types of search intent. In this blog post, we'll discuss search intent from a user's perspective and the view of an SEO expert. We will discuss how identifying and catering to users' goals when searching will ultimately increase the site's visibility and revenue.
What Is Search Intent?
From a user perspective, search intent is nothing but the term used to find something on Google or any search engine. So, when a user types a specific phrase online to search for information and explore a topic, let's use an actual "dinner recipe" as an example. Google's Algorithm uses this query to understand the user's intent better. Google's search algorithm has evolved. It can determine that you're looking for a dinner recipe for a specific reason. Is the user searching for a particular site or trying to make a purchase? This identifies the goal of the search and determines the type of search intent.
What Is Search Intent In SEO?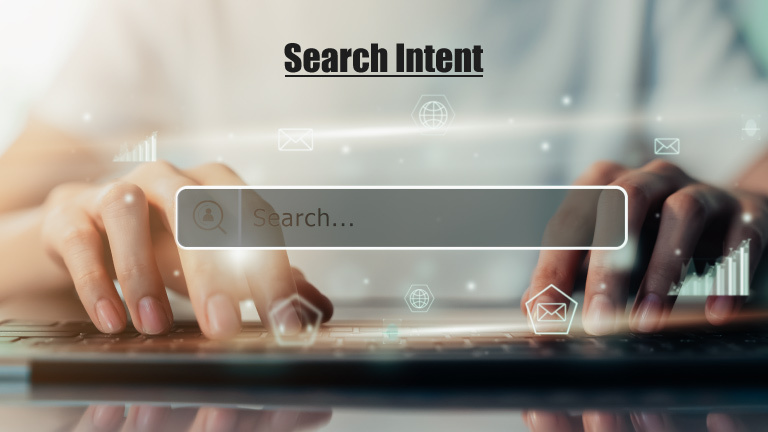 In the above section, we discussed the meaning of search intent from a user perspective and how Google identifies it. Here, we will put our heads together about why search intent matters to SEO experts. For a basic SEO strategy, professionals must understand the key phrases the user tries to find. For example, if a user tries to search on the web with a single term, it will be difficult for Google to identify and present relevant searches. Take, for example, dinner.
Only a single is challenging enough for SEO experts to target. The results shown on Google will also be mismatched. So, a user must be specific in searching for relevant information. So, if the user searches are more particular, like 'dinner places near me,' dinner ideas, and dinner easy recipes,' Google and SEO experts can target and provide relevant information that a user is looking for.
So, the primary goal of Google and SEO experts is to satisfy the search intent of its users. Further, let us comprehend why search intent matters to SEO. And also concentrate on learning what are the 3 common types of search intent.
What Are The Types Of Search Intent?
Now, let us clearly understand the 4 types of search intent. To distinguish and further understand the search query, the types of search search are divided into the following:
Informational- When the user is only looking for information. For example, educational related, about a country, weather, SEO, etc.
Navigational- When the user has a specific purpose in mind. For example, log in to a particular website. Here, the user knows their intent and what they are looking for.
Transactional- When the user completes an action and usually purchases online from Amazon, Flipkart, or other e-commerce sites.
Commercial- When the user is surfing the web for research before purchasing. For example, before buying an air fryer, research the best air fryer brands and comparison between two air fryers.
Why Is Search Intent Important In SEO?
Let us navigate to why search intent is vital for SEO professionals.
Effective Content Strategy
Once experts have a solid understanding of the nature of user intent, they can begin crafting a winning content strategy. With this information, the SEO team may more easily develop and aim for keywords that will attract the company's ideal customer.
You can target the user intent keywords to build blogs, guides, and social media posts to improve the website's visibility and dominate the SERPs. Additionally, solving a user query will provide value to the readers and turn them into loyal customers.
Improve Rankings
When the user finds the relevant information they are looking for, it results in user satisfaction, and Google recognizes the relevance and improves the website's domain authority. Once your content is tailored to user intent, you'll see improvements in key performance indicators like CTR and time on page. In addition, you may boost your brand's credibility and exposure by creating helpful content on subjects in which your company specializes and which caters to a wide range of user needs.
How To Optimize Your Content Strategy For Search Intent?
Once SEO experts understand what is search intent its type, it is easier for the team to tweak and improve its strategy. Will will tell you the ways to optimize the planning to improve rankings and build credibility on the SERP.
Understand And Research User Intent
Make sure you know who you're selling to and establish buyer personas before you start planning the customer journey. When you know the intent of a searcher's query, you can direct them to the most relevant page. If the wrong people are visiting your website, all of your marketing efforts will have been in vain. While you may have a large audience, your conversion rates will be low.
When your website content syncs with consumers' search intent, visitors will find it and follow you down the sales funnel. Suppose you're utilizing keywords for informational purposes. In that case, you may provide your visitors with a lot of helpful background information right off the bat, increasing the likelihood that they'll see your site's worth for what it is. If a visitor comes to your site with the intent to buy, you can move them straight into the sales funnel.
Include Long Tail Keywords In Your Strategy
The secret is that using the same core term but including the long-tail keywords allows you to target multiple intents. This also means using synonyms for your primary keywords. You may increase your content output and, thereby, your credibility as an expert in your field. Your site's ranking on Google will improve as a result. You can use various keyword tools like Google Keywords tool to optimize your content strategy.
Know Your Competition
Find out who you'll be up against. You should examine the terms used by your immediate competitors as a benchmark. Finding out who else is trying to attract customers searching for your targeted keywords is essential. Look at the best-performing pages first, then create new content or reorganize the old content based on your learning.
Conclusion
Understanding what is search intent in SEO is very crucial. Search intent is valuable for developing effective content strategies to tailor the SEO strategies depending on the target audience's needs and intentions. Suppose your strategy is successful in satisfying user needs. In that case, you will have consistent visibility on search engine results pages (SERPs) for as long as you maintain this level of commitment to improvement.