Were you aware that almost 3.5 billion individuals are using one or more social media platforms? It's nearly half the population of the globe. That is why so many companies and marketers flock to social media to create brand recognition, lead, and more due to many users on these platforms.
It isn't late to get started if you haven't used this opportunity yet. Are you looking to improve your resume? Do you want to stand out confidently in your company? Are you looking to expand your professional abilities to acquire a job or impress your boss? If the answer is yes, then you have landed on the right page. Gone are the days when education was confined to textbooks and classrooms. Thanks to our fast speed of internet connection you can study anytime, anywhere.
If your company is losing out on sales, a social media marketing course can help your business to grow. There is, however, a learning curve to create and share social media content. It's not as easy as posting a picture on Instagram or Facebook and hoping for likes and comments. To build a loyal client base that produces business, a little more sophisticated understanding is essential. 
But how do you know which social media marketing course to choose? There are plenty of online classes available. Sometimes, it is overwhelming to understand which ones are useful and authentic or which expert provides the best market expertise.
Don't worry; however, we have done a challenging job for you. First, we have scanned the best online courses to determine their most popular courses in social media marketing. Then We looked at those that had the most informative and up-to-date material so that you may enhance your abilities in social media marketing to advertise your company or blog or educate you.
Let us begin to cover some of the best social media marketing courses accessible today in this blog article. 
5 Best Social Media Marketing Courses Online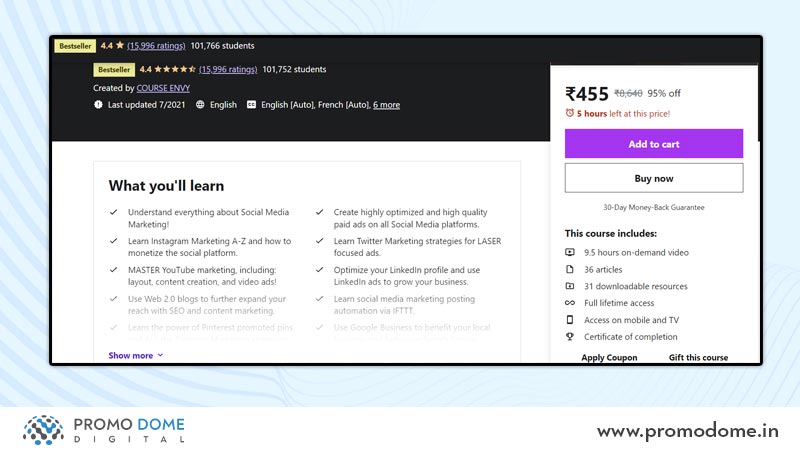 Offered by-Udemy
Skill level-Beginner
About this course- This course covers 9.5 hours of video, 36 articles, with complete access on mobile and TV. The MASTERY course of Udemy Social Media marketing is ideal for beginners in social media. It claims to assist you in learning how to use various platforms for advertising your brand through social media advertising efficiently. 
This course includes all the major players, including Facebook, Twitter, Linked In, and Instagram. In addition, you will study blogging, SEOs, and tools to increase your marketing efficiency.
Initially, this training was priced at a few thousand rupees. However, keep your eyes open. We saw this course is on sale for just Rs. 455/- only a fraction of the price, which is fantastic because you receive access to the course contents for a lifetime.
Offered by – Coursera
Skill Level- Beginner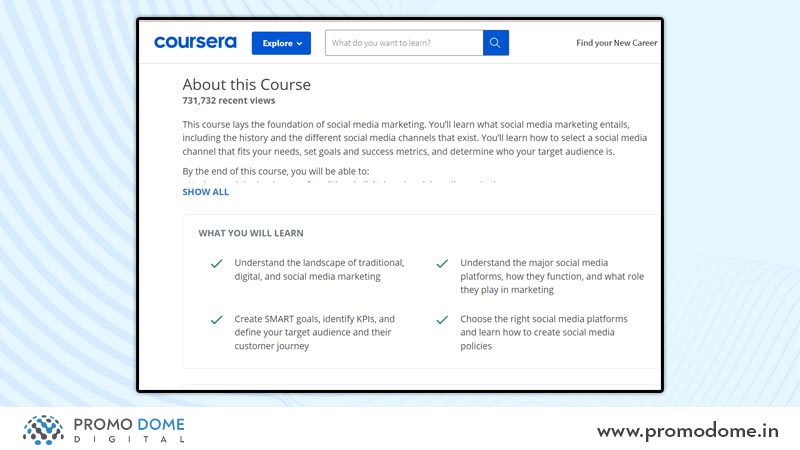 About this course– This course is on the number two spot on our list of best social media marketing courses. As the name suggests, Introduction to Social Media Marketing is beginner-friendly and free of charge. No degree or any specialization is required to enroll in this course. You just need a Facebook and Instagram account, and you are good to go. 
Another benefit is that language is not a hindrance while taking this course as subtitles are available in English, German, Spanish, Arabic, Japanese, and many other languages. 
Instead of focusing solely on particular platforms, it delves behind the scenes to enable you to understand social media from a commercial standpoint and develop your approach. It includes social marketing, social trends, social business, and more.
3. Social Media Marketing Courses on SkillShare
On Skillshare, there is a widespread of options to choose from depending on your interests and time. You can filter based on the options available, like the level of the class you wish to start with, time of the class. Here are some of the names of the best social media marketing courses that they offer. You can check it out. 
Powerful Social Media Marketing For Beginners.

Social Media Marketing Agency: Digital Marketing + Business

Social Media Marketing Masterclass 7Courses in 1

How to Create Engaging Social Media Marketing Content
Specifically, in terms of social media marketing, you may filter social media marketing classes by completion, whether they are free or paid, if the subject is trending or not, and more. 
There are many more online courses available on SkillShare to choose from that will help you develop and execute a social media strategy and help you understand the difference between paid media and organic social media. In addition, some courses will help you make your social media content stand out on these increasingly crowded social media platforms.
4. Social Media Marketing Certification Course
Offered by–HubSpot Academy
Skill Level– Beginner.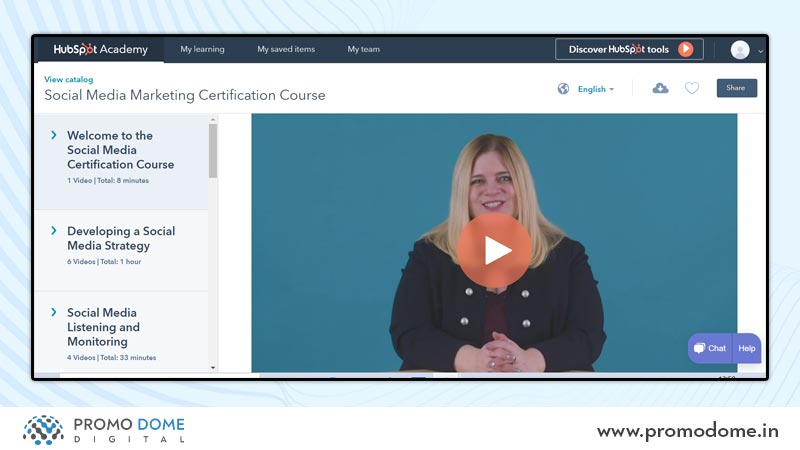 About the Course: This Certificate course is a free social media marketing course. The Social Media Certification course from HubSpot is a thorough curriculum designed to help acquire and develop brand loyalty. Since social media is the key to inbound marketing, this is a smooth connection between the two concepts.
The training is sufficiently flexible to work on your schedule. In addition, it covers vital subjects such as ROI measurement, reach expansion, social media content development, and social listening.
Offered by: LinkedIn
Skill Level-Beginners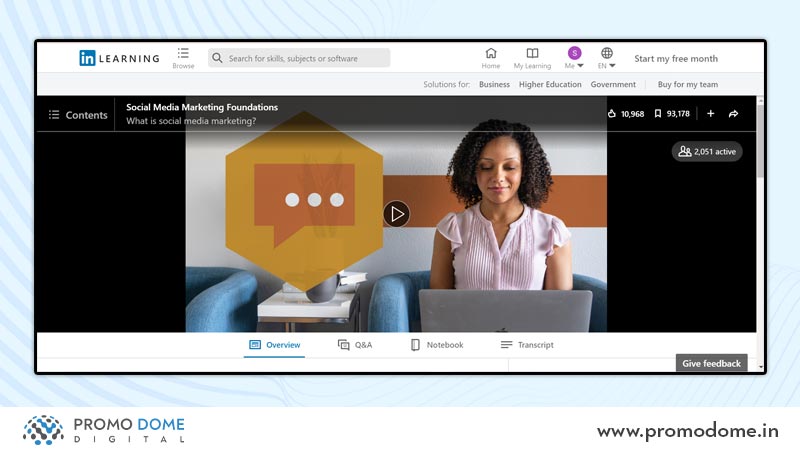 LinkedIn Learning's course is one of the best social media marketing courses. Brian Honigman is a social media expert and an NYU professor. The course is intended for beginners and includes the content of over two hours. 
In this course, you will understand the advantages of investing in social media. There are also recommendations for establishing a plan for social media connected to your business objectives and key audience. You're going to know the basics of Facebook, Instagram, YouTube, LinkedIn, Twitter, Pinterest, and Snapchat.
This marketing course is priced at a nominal price, and if you wish to learn more about the course, you can opt for a trial period before paying for LinkedIn Learning Premium.
Choose Your Ideal Social Media Marketing Course
Social media marketing can be incredibly powerful if done correctly—and knowing how to implement the best and most efficient methods helps you to stand out from other social media marketers and strategists so that you can boost your professional career.
Identify the best social media marketing course for your level of expertise, budget, and objectives – then you start studying.