If you are bumbling through the internet to learn how to increase sales through digital marketing, then your search ends here. Whether you are a business owner or a digital marketer working for a client, the benefits of digital marketing that we will discuss today will surely help you get results.
In recent years the importance of digital marketing in growing one's business has dramatically come into the spotlight. However, with the pandemic, the role of Digital marketing in getting sales has become a focal point of interest for online and offline businesses alike. Irrespective of the niche or market, the magnification of the need for a strategic digital marketing strategy to sustain in this digital-first era has forced firms to look into the digital marketing arena.
But despite the innumerable efforts of digital marketers, it has proved increasingly difficult to cross off the last rung of the conversion funnel. So why are the digital marketing efforts of businesses failing to bear desired results? What are they missing?
The answer to all these questions is right here. Keep reading.
What is Digital Marketing?
You might think of skipping this part as it feels moot at this point even to discuss what digital marketing is. Everybody knows, or do they?
If we want to prepare an online marketing plan that guarantees an increase in sales, we first need to change our head-in-sand view about online marketing.
Digital Marketing isn't just a marketing tool. It's a data-driven, strategically planned journey. A journey that starts when a customer comes to Google with a problem and only ends when they become a recurring customer. Digital Marketing is every single effort that leads the customer to the checkout page.
Contrary to public opinion, it's not just about writing a blog on your product/service or running a Facebook ad. This misconception is the primary reason behind the failure of various online marketing plans. They fail to integrate all the online marketing efforts into one cohesive journey.
But that ends here; once you go through our digital marketing strategy to increase sales, every campaign you run will bring you conversions.
So are you ready to learn the secrets behind running a successful digital marketing campaign that guarantees sales?
How to Plan a Digital Marketing Strategy to Increase Sales
Define Your Audience
"If you are selling to everyone, you are selling to no one."
Businesses trying to be everything to everybody end up selling to nobody. It's high time marketers learn this fundamental lesson.
The first step in ensuring our plan earns all the benefits of digital marketing is to define our target audience. Your target audience is the group of people who are most likely to buy your product.
Create a Consumer journey map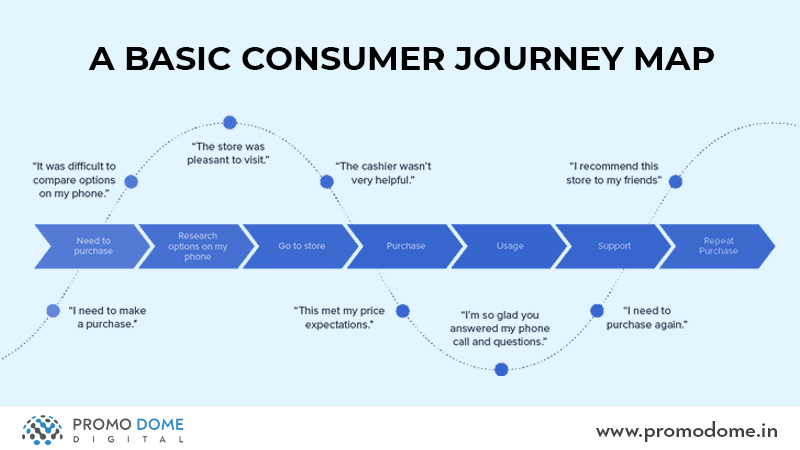 Once you have a specific target audience outlined, you need to dig deeper to create a detailed consumer journey map.
Imagine you have a headache, and you go to the chemist, and the guy who has the tablet is busy selling it at the theatre. Foolish, isn't he?
Well, that's what we end up doing when we don't have a clear map of our consumer journey outlined. To be available at the right time and place, we first need to understand how our customers behave, where they are active, and what they usually do when they require a specific product/service. For example, do they go to Google, or do they directly search for particular brands online?
This helps us to anticipate their move and plan our strategy accordingly.
Meet the customer where they are mentally
If you want your online marketing campaign to result in conversions, your marketing narrative must resonate with the situation the customer is currently at.
For example, if a user searches for the best acne healing facewash, and your ad highlights why anti-acne face wash is the best solution for treating acne, you will surely miss out on this customer. Why? Because you aren't meeting the customer where they are in their purchasing journey. They are already searching for facewash, which means they are well aware of the importance of facewash in treating acne. However, what they don't know is which facewash is the best for them. Thus, it's an opportunity for you to convince them that your product is the best one for them.
The most special advantage of digital marketing is the opportunity to access the consumer at every stage of their consumer journey.
When you search for pizza, Swiggy doesn't tell you how tasty Chinese food is; instead, they show you how they have the best pizza restaurants on their delivery platform. Therefore, understanding the user's mental state at a particular point of contact is essential to optimize our digital marketing efforts.
Focus on Providing Solution to your customer's Problems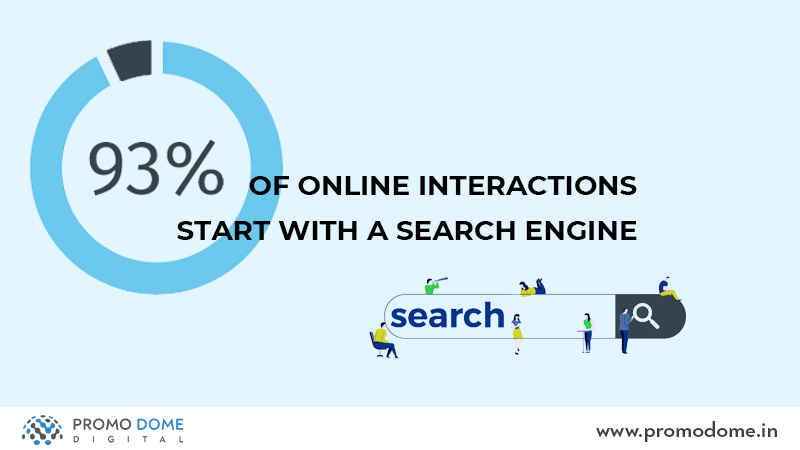 Whether you want to buy a car or find the best sushi restaurant nearby, the first thing any user does today is look it up on Google. You need to be where your audience is, Period.
Showing up on Google every time your target audience searches for a solution is the best way to start building a relationship with your audience. Irrespective of whether you have an e-commerce website or a brick-and-mortar shop, you must be accessible online. In simple words, you need to have a website.
An SEO-optimised website helps you rank on the search result page whenever your TA(Target Audience) searches for a solution online.
93% of all online interactions start with a search engine. So if you don't want to miss out on it you need to have an SEO-optimized website.
Content Marketing Stratergy
"It takes at least 7 touches before a lead turns into Sales"
Content Marketing is the robin to the batman we call Digital Marketing. A well-planned content marketing strategy is the key to building a relationship with a consumer that eventually leads to sales. Of course, it's a process, and it takes considerable time and effort. But it indeed delivers sweeter results.
Blogs, Podcasts, Videos, and newsletters are the powerful tools in your satchel that help you reach your audience and lodge yourself in their minds. You need to make sure every time your TA faces a problem, they trust you enough to turn to you for the solution. This trust is what compels the user to pay money to get your paid services/products eventually.
Behind every sale, there's a string of free value-providing content working behind the curtains to get the customer there.
Neil Patel's Ubersuggest is the manifestation of a content strategy done right. Along with blogs and video content helping marketers and businesses design their SEO strategy, the man went a step further. He provided a free tool on its website that allows users to do keyword research. He also provides digital marketing services to businesses which is his primary source of revenue. All the other services are channels to drive relevant traffic to his paid services.
Stay Relevant in your Audience's mind
The attention span of audiences today can rival even a goldfish. With vigorous content marketing efforts, you have lodged yourself in your audience's mind, but that's not enough. It's important that you find a way to stay there.
You need to stay relevant to survive the rigorous competition for the tiniest real estate of your audience's mind.
In addition, users are bombarded with new information every minute of every day; in such a scenario, standing out from the constant information overhaul becomes vital. But how to do that?
Social Media Marketing
The benefits of Social Media for businesses are a ubiquitous topic.
You need to be there for your TA 24/7; anything short of that will only leave you stranded. A cohesive social media marketing plan working in tangent with your content marketing strategy is the secret to accelerating your sales campaign.
Make use of every arrow in your social media quiver to maintain a hard-earned relationship with your audiences.
Choosing the right platform depending on the type of content and your target audience is essential to maximize the advantages of social media marketing.
For example, a major chunk of your resources must be directed towards Instagram and Pinterest if you have a fashion brand. As opposed to a B2B business whose primary focus would be LinkedIn and Facebook.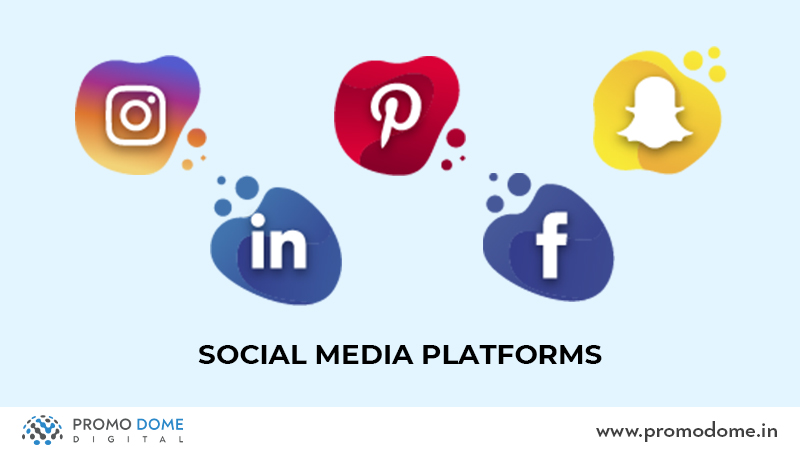 Customizing your content depending on the social media platform is crucial to get the most out of your efforts.
Zomato keeps trending on social media, courtesy of their creative social media team. Their content is funny and relatable increasing its shareability which results in the brand constantly trending on social media.
Even if you don't use the food delivery platform, you are aware of all the new updates and offers the newly public company comes up with.
How? A good social media strategy.
Email Marketing
Email marketing is another branch of digital marketing that helps brands stay relevant and present. It's a great marketing tool when used strategically.
Welcome emails, regular products update emails, offers, and promotional emails help brands remind customers of their existence. It helps in brand recognition and increases brand recall. Email marketing helps reach the customary seven touches with the consumer quickly. Regular automated email updates bring the consumer back to your website, or at the very least, it brings you back into their minds.
Additionally, emails have a strong return on investment, making them a necessity to increase sales through digital marketing.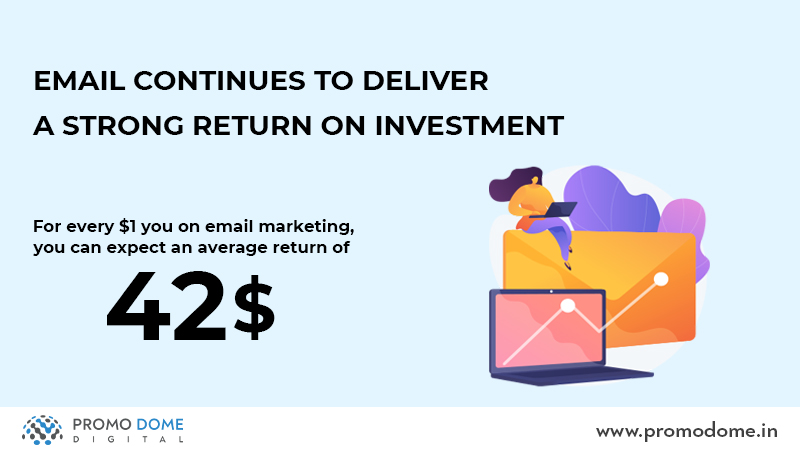 Generic emails fail to add the special touch that personalized emails carry. Also, draft your emails based on the mindset the consumer is in. It increases the likelihood of them complying with your request. Several email automation service providers help digital marketers ace their email marketing campaigns, like Mailchimp.
Remarketing
Whenever you search for something online, the same product ads start showing up everywhere you go online.
Have you experienced this? Then this isn't your first encounter with "Remarketing".
Remarketing is the final nail to the sales funnel coffin. However, Cart abandonment is a serious and very frequent issue that e-commerce stores face.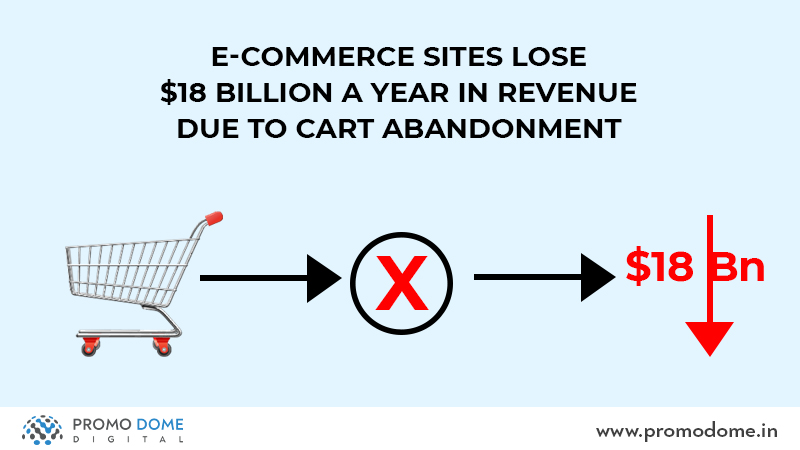 Here you have a user who not only knows about your brand, has visited your website but also liked your product enough to add it to your cart. However, for some reason couldn't take the final step of buying it. It's a gold mine of opportunity.
By using the above-mentioned tactics you have successfully brought the user to a stage where conversion is just one step away. Now, Remarketing is the final push that will take the user from a "maybe" to "yes, let's buy it!"
Remarketing ads and discount email offers are two powerful ways to bring the user back to your website.
"45% of customers will open emails sent to recover an abandoned purchase."
A well-planned personalized remarketing email campaign is crucial in effectively finishing the consumer journey with conversion.
Conclusion
Every Successful Digital Marketing campaign must have coherent Content Marketing, Email Marketing, Social Media Marketing, and Remarketing strategy.
The main objective behind any marketing plan is to increase sales. Increasing Sales through digital marketing requires a strategic amalgamation of creativity, content, and data.
If you too want to increase sales through digital marketing then contact us immediately.