It does not matter which niche your business operates in; if you do not have a firm digital presence, your business is probably losing out a lot of potential clients to your competitors. If you want to drive a lot of targeted traffic to your website, you must be well-versed in the nuances of grey hat SEO. However, it is riskier but may prevent your site from getting banned.
Having a good understanding of this SEO technique helps you to improve your site's ranking without facing any negative consequences. Failing to understand this might lead to a huge loss of traffic. Google's updated algorithm is clever enough to spot any wrong tactics and penalize your site immediately.
Let's dive into knowing how grey hat SEO works so that you can ensure to implement these strategies carefully in your search engine optimization techniques.
What Do You Mean By Grey Hat SEO?
Grey Hat SEO is the combination of SEO methods that go along with white hat SEO techniques and violate black hat SEO techniques. Even though these techniques might be widely used, we recommend avoiding them in the first place. Depending on its use, it may or may not result in your website getting banned from appearing in search engine results. It is important to stay updated about the latest tactics of grey hat SEO as it can change frequently.
5 Grey Hat SEO Tactics To Avoid
Here are a few of the SEO activities that you should avoid.
1. Purchasing Backlinks
Backlinks play an essential role in getting traffic to your website. Building a profile of robust backlinks to your website takes time and consistent effort. So, looking for shortcut options and buying some backlinks is very tempting. However, we do not recommend buying backlinks because it violates Google's guidelines and can result in a penalty from Google.
2. Irrelevant Keyword Stuffing
With the new updates, Google's algorithm has become smarter and easily identifies content with stuffed keywords. Keyword stuffing makes your content sound robotic and puts off your readers. This gives a negative user experience and might hurt the ranking of your website by increasing its bounce rate.
However, if you still wish to incorporate this tactic into your SEO strategy, you can do so by carefully placing the keywords in the right places.
3. Spinning Content
When you take content from one website and reframe its sentences using any paraphrasing tool, you can post it on your own site. This method is called Spinning content. It is another common grey hat SEO technique that helps to get ranked on Google. However, it is not a recommended practice to follow for your business, especially in the long term.
4. Automating Content Creation
With the rise of technologies like AI and ML, content creation tasks can be automated. AI tools can be used to write content without any human involvement. When you feed your blog or website with a constant stream of automated content, readers cannot feel the unique perspective of the content, even if it is not plagiarised. No matter how better AI develops, automated content cannot match human-written content, and Google can easily detect it. It is an unethical practice to continue for a long time.
5.  Using PBN
Known as Private Blog Network, it is a collective group of websites you can refer to build backlinks to an individual website to boost its ranking on Google. You build backlinks pointing to your main site by linking to it from PBNs. However, Google classifies it as a link scheme approach of grey hat SEO practice and can attract penalties. But still, if you want to include this strategy, you can start building your PBN network that is relevant to your niche. This potentially takes a lot of time but is safe to use.
What You Can Do To Avoid Grey Hat SEO?
You can avoid grey Hat SEO practices by applying the following strategies. You can try this comprehensive SEO optimisation checklist to boost your ranking in SERPs.
1. Focus on building high-quality, relevant backlinks steadily through guest blogging.
2. Write comprehensive content that covers the topic thoroughly. It also covers the long-tail keywords or phrases your target audience might be searching for.
3. Always put forth your perspective in your content. Readers prefer authentically written content, and this can give a huge boost to your site rankings.
4. Instead of focusing on getting huge traffic and short-term results, put more effort into creating content that provides immense value to your readers. It should answer their common questions, point to relevant sources, and offer irresistible deals.
5. Outrank your competitor's content. Analyse the top-ranking pages for their content and create a better version that matches the search intent.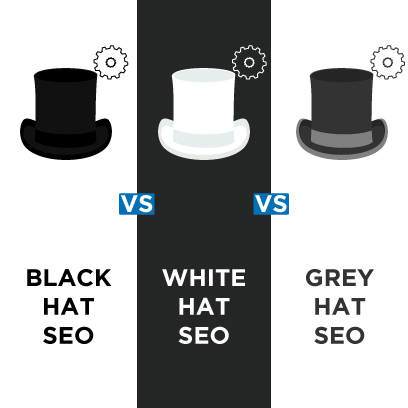 Grey Hat SEO Vs White Hat SEO
A significant difference between these two SEO practices is that grey hat SEO can be slightly riskier than white hat SEO but escape from getting your website into trouble. White hat SEO, ofcourse, follows the ethical way of implementing SEO strategies. Grey Hat SEO tweaks a few of the white hat search engine optimization practices but in an ethical way.
Grey Hat SEO vs Black Hat SEO
The Grey hat SEO techniques do not directly violate Google's guidelines to improve website rankings, but black hat SEO tactics directly violate their terms of service which is illegal.
Conclusion
If you have a website and, despite trying it hard, you can still not get rankings, then you must investigate your content for these Grey hat SEO techniques. It is a search engine optimization strategy that combines white-hat and black-hat SEO approaches. It can fetch you unrivalled results if used with caution. If you have a new website, you can use these strategies to boost organic traffic.