Marketing aims to attract new customers and grow the business. The end goal of every business is to turn leads into paying customers that generate revenue for their products and services.
Brands use various methods and zero down on specific marketing approaches to persuade customers to purchase to increase conversions. So, in this blog, we will uncover how to market your product using marketing strategies to get your products noticed. In addition, we will clarify the distinctions between content and product marketing, two forms of promotion that are often confused.
What Is Content Marketing?
B2B marketers design content marketing strategies to educate and inform customers via reliable, relevant, and valuable content by offering solutions for their challenges. Content marketing helps spread brand awareness and will help individuals recall the brand when it is time to buy the product.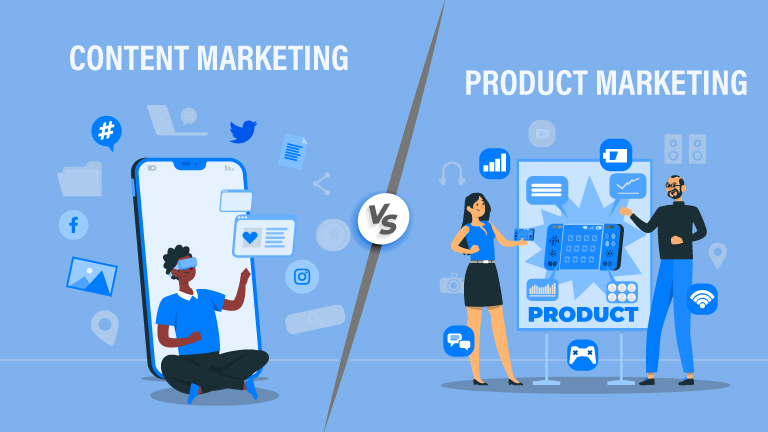 Articles, blog and video posts, testimonials, and how-to guide articles are all examples of high-value content campaigns that brands use to enlighten consumers about the product and its benefits. So, how would you define what is a content strategy?
An ideal content promotion strategy uses several communication avenues to reach the target audience. Potential consumers are prompted to interact with a brand when helpful content is created across many channels and targeted at specific demographic subsets.
What Are Some Of The Content Marketing Examples?
Blog posts on websites
Testimonials
Social media posts
How-to guides
Emails
Newsletter
Advantages Of Content Marketing
Some of the critical advantages that marketers use through content marketing strategies are mentioned below:
Improves Website Traffic & Visibility: When individuals search for answers to their problems, a content strategy may attract more consumers and website traffic. Educational and interesting articles on a subject they're interested in might boost your website's presence and product awareness.
Builds Trust: Content strategies aim to build trust and loyalty via social media posts to establish reliability with the target audience. Having loyal consumers is crucial to the success of any company or marketing campaign since they are more likely to become repeat buyers.
Cost Efficient: Content marketing requires long-term efforts that show results over time as the website builds authority. So, a content strategy is more effective and cost-efficient to rank in the SERP results through continuous SEO efforts.
What Is Product Marketing?
After you have understood the concept of what is content marketing and the various channels used for it, let us now focus on what is product marketing before we move on to the differences between the two marketing strategies.
Product marketing ensures ways of communicating with the target audience to convert leads into sales. So, if you ask how to market your product to adapt, focus on the product's USP (unique selling point) and the differentiator about how your product is better than the competitor's.
So, product marketing emphasizes the product's quality, features, and competitive price to help buyers choose.
Which Channels Are Used For Product Marketing?
Brands and B2B marketers use the following channels for product marketing:
Paid Media
Press Releases
Feedback from happy customers
Landing pages
Demo through sales ad
Case studies
How Does a Brand Benefit From Using Product Marketing?
Product marketing tactics will deliver the best results and generate revenue for brands:
Paid Media Will Increase Sales: PPC advertising focuses on the product's value and features that drive sales. So, paid ads attract customers and help in lead conversion.
Improved Customer Relations: Brands may learn more about their target market's wants and needs, address consumer complaints, and improve their products and services by listening to and responding to customer feedback and suggestions.
Content Marketing vs. Product Marketing: Major Differences!
Let us begin by stating that digital marketing is a vast umbrella, and content and product marketing are two sides of the marketing coin. But, at the same time, it is also necessary to point out a few distinct differences between the two types of marketing.
Firstly, content marketing solves a query or a problem that a customer might want. It is a mode to attract an audience, make them aware of the products, and familiarize them with the website.
At the same time, product marketing is the last step of the sales and marketing funnel that converts leads into sales.
The second significant difference between the two types of marketing is the stages at which they are adopted. As the end goal is the same to sell the product, the tactics used to reach the target audience differ. For example, content marketing is done in the initial stages of marketing to educate and increase engagement and online visibility of the products and the website.
On the other hand, product marketing involves paying close attention to the competition and staying ahead through paid marketing. For example, influencer marketing, display ads, and sponsored content are a few tactics used by marketing teams.
Product marketing comes with high costs due to paid media advertising, so the results are quicker than sales. Product marketing is a mix of various sales strategies to increase sales. To promote the products and help the customers decide, customer reviews and influencer marketing can help push the product better.
Whereas content marketing helps the brand maintain its position on the SERP results to keep the company in the leading role for brand recall.
Conclusion
Therefore, we would like to conclude that content and product marketing is crucial for businesses if you are a brand or B2B marketer who needs assistance deciding and choosing which form of marketing is acceptable and ideal for your organization. This is because both marketing channels are part of the same purchase decision cycle.
Combining content marketing with product promotion helps maximize your company's success. An excellent digital marketing firm will help you prioritize and build the right mix strategy for your business that can build SEO driven content strategy that leads to sales.